Police Chief Greg Suhr has resigned from the San Francisco Police Department in the midst of the shooting of a black woman by SFPD officers and other racial tensions, Mayor Ed Lee announced at a news conference late Thursday afternoon.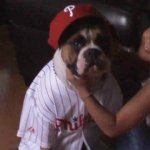 Lee said he had asked Suhr, who has served in the city's police department for more than 30 years, to resign.
The mayor appointed Toney Chaplin, former SFPD deputy chief of the Professional Standards and Principled Policing Bureau, as the acting police chief.[[377165291, C]]
"The past several months have shaken and divided our city, and tensions between law enforcement and communities of color that have simmered for too many years have come into full view," Lee said.
"Though the facts are still emerging, we know that, this morning, a young woman of color was killed in an officer-involved shooting in the Bayview. The community is grieving, and I join them in that grief." [[377341091, C]]
The resignation comes after police earlier in the day fatally shot a woman in the Bayview District. Earlier in the day, Suhr said the woman was driving a stolen car and refused officers' commands to stop the car. Officers approached her on foot and she drove away. She was then shot by police. [[378589966, C]]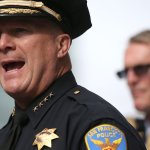 The shooting comes at a politically difficult time for Suhr and Lee.
The San Francisco Police Department is under intense scrutiny following the fatal shooting of Mario Woods in December and the fatal shooting of Luis Gongora in April, as well as two recent scandals involving racist text messages exchanged among officers. [[378653911, C]]
Activists for months have been calling for Suhr to be fired. A group of five protesters — dubbed "the Frisco 5" — went on a hunger strike outside of Mission Police Station on April 21, vowing not to eat until Suhr had tendered his resignation.
On May 3, about 400 supporters marched with the strikers, who were pushed in wheelchairs, to the steps of city hall where they interrupted a San Francisco Board of Supervisors meeting and demanded his resignation. At the time, the board's president London Breed said she would not "comment publicly" on whether she wanted Suhr to resign.[[378589966, C]]
On May 8, the hunger strikers were sent to the hospital and ended the strike for health reasons, leading to a violent protest involving their supporters and sheriff's deputies at City Hall. At the time, Lee had still expressed support for Suhr.
City supervisors Jane Kim, David Campos, Eric Mar and John Avalos joined those calls for Suhr's removal last week following the release of a critical report on the department by a blue-ribbon panel commissioned by District Attorney George Gascon.
Edwin Lindo, one of the hunger strikers, told NBC Bay Area that Suhr's resignation is a positive step for the city.[[378520585, C]]
"This shows the power of the people and the community," he said. "When we come together with love justice, the power for justice is inevitable. This battle is a victory, but the fight for justice continues, making sure the next chief is one accountable to the community and that the necessary reforms are implemented."
The Frisco 5 released a statement following Lee's announcement, demanding that the officers involved in these shootings be fired and charged with murder.
"We demand a meeting between the community and the interim police chief to discuss real reform created by the community," they said, calling for Lee to resign.
They said that Lee "allowed rampant police misconduct, terrorized the homeless and forced out the middle and lower income residents to serve the interest of big business over the people of San Francisco."
Dozens of people gathered in front of City Hall Thursday evening. The gathering was initially planned as a protest, but it turned into a celebration of Suhr's resignation among activists.
"It's very exciting because we've been working two years on this, so this is party time right now," said Oscar Salinas of Justice for Alex Nieto. "But the work has just begun."
Phelicia Jones of the Justice for Mario Woods coalition said, "I am elated that he finally decided to resign. It's a small victory, but a victory all the same. But we still have a lot of work to do. We have to change a culture."
Mayor Lee's full statement on Suhr's resignation:
"The past several months have shaken and divided our City, and tensions between law enforcement and communities of color that have simmered for too many years have come into full view.
Though the facts are still emerging, we know that, this morning, a young woman of color was killed in an officer-involved shooting in the Bayview.
The community is grieving, and I join them in that grief.
These officer-involved shootings, justified or not, have forced our City to open its eyes to questions of when and how police use lethal force.
For the last many months, every day, I have asked myself, is the path to reform best advanced by our current Department leadership?
Because my goal has always been, and remains, real reform and the restoration of trust.
I have previously expressed confidence in Chief Suhr because I know he agrees with and understands the need for reform. He has demonstrated his commitment to instilling these reforms into the whole department, from the command staff to the cadets.
But following this morning's officer-involved shooting and my meeting with Chief Suhr this afternoon, today I have arrived at a different conclusion to the question of how best to move forward.
For me, this has never been about personalities and politics, it's been about performance.
Because, in my three decades of public service, I've learned how important it is to measure progress along the way. Greg Suhr, a dedicated public servant who's given more than three decades of his life to the Bayview and to this City.
The progress we've made has been meaningful, but it hasn't been fast enough. Not for me, not for Greg.
That's why I have asked Chief Suhr for his resignation. And in the best interest of the City he loves so much, he tendered his resignation earlier today. Despite the political rhetoric of the past few weeks, I have nothing but profound admiration for Greg. He's a true public servant, and he will always have my respect.
I've known him for years, and he's a man of great character. He takes his job seriously, he's loyal, he's smart, and he understands that a Police officer is more than a public safety enforcer. A police officer is peace of mind, a social worker. He's a model San Franciscan and a great man.
To take Greg's place, I am naming Toney Chaplin as Acting Chief of Police.
Toney has served in the Police Department for 26 years. He's established a record of commitment to the City's diverse communities, serving at Mission and Taraval Stations, in the Gang Task Force, and running the Homicide division. Toney has most recently helped establish our new Professional Standards and Principled Policing bureau, the arm of the department that focuses on accountability and transparency.
The men and women of the San Francisco Police Department put themselves in harms' way daily, literally. We owe it to them to restore the community's trust in their department. As we embark on a new chapter for the Police, we aim to restore this trust.
Some of the reforms underway might have prevented or clarified today's incident.
We need to turn these plans into actions.
I will hold the Acting Chief and the Department to a high standard of urgency to implement the reforms we've already announced in the past several months.
And we will keep pressing forward with new accountability measures, and stronger oversight over police use-of-force.
My fellow San Franciscans, we must push forward, harder than ever before, to reform the Police Department and restore trust with every community and keep our City safe.
In this solemn moment, we must put aside politics and begin to heal the City."
NBC Bay Area's Gillian Edevane, Riya Bhattacharjee and Kristofer Noceda contributed to this report.
Information from Bay City News and the Associated Press is included in this report.