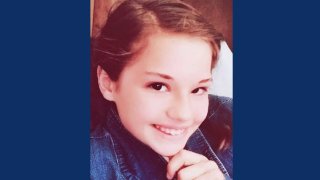 A 13-year-old Mendocino County girl who went missing in San Francisco Friday was found safe Sunday on San Francisco's Embarcadero, according to the girl's grandmother Jamie Buckner.
Buckner said that a man who was found with the girl, Sienna Carter, is now in custody.
Carter was with her family at UCSF's Madison Clinic for Pediatric Diabetes Friday when she left the facility to "get some air" and never returned.
According to Cold Case Mendocino, a page run by citizen investigator and journalist Matt LaFever who has been working the family, Carter was seen two miles away from the clinic and was witnessed walking away with a man in the Tenderloin District.
Before walking away with the man, Carter was seen "shivering in the alley" by a restaurant server in the area.
The server, Jaclyn Davis, was concerned about Carter being alone in the city and invited her inside the restaurant. Cold Case Mendocino reported that Carter left the restaurant, "walked quickly and met a man, they embraced and walked off on foot."
Buckner could not say any more about the circumstances surrounding her discovery, except that UCSF police are currently interviewing Carter and going over evidence that includes her phone.
Buckner believes that fliers along the panhandle and Van Ness Avenue with the girl's picture helped.
This is a developing story, please check back for updates.