San Francisco's arguably oldest park, is about to get some overdue love.
The city's Parks & Recreation Department this week broke ground on a long-awaited $3.6 million revamp of South Park, the park bordered by 2nd and 3rd streets near Brannan Street, just blocks from AT&T Park.
South Park was created as a private park in 1852 by Scotsman George Gordon who envisioned the oval shaped London-style garden as the centerpiece of a new swanky neighborhood for the city's affluent. But the park fell into disarray over the years, and San Franciscans wanted to invest to reclaim a piece of that history.
The city plans to revamp the park with new plazas, play structures and replace the feeble drainage systems. South Park resident Toby Levy said the idea is to update the park, without imposing the feel of heavy-handed changes.
[[347704111 ,C]]
The park is believed to be San Francisco's first — although technically Portsmouth Square and Buena Vista Parks were the city's first public parks. The city took possession of South Park in 1897 and opened it to public use. Less than a decade later, its ring of stately brick homes tumbled in the 1906 earthquake and fire. The city erected temporary barracks in the park to house people left homeless by the quake.
"So it's had a very colorful history," Levy said.
But the years have whittled away at the park's resiliency. The trees are overgrown and dying. The play structures are built from beams soaked in toxic creosote, and every winter the park floods.
Over the decades, the park's homes and warehouses have housed artists, merchant seaman and new immigrants. Levy said many of the homes were once owned by Japanese — but were abandoned when many Japanese were interned during World War II.
"What's interesting is how it's evolved throughout the city's history," said San Francisco Parks & Recreation Director Phil Ginsburg.
Over the years, the park had earned a somewhat seamy reputation. Longshoremen would reportedly gather in the park each morning to light bonfires. Crime and contraband were rampant in the area.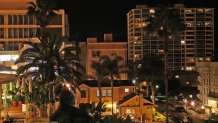 "Back when I moved in in 1983," Levy said, "we couldn't get cabs to take us to the inside of the park because there was so much prostitution and drugs. They were afraid of being jumped."
These days, the park is filled with the tech crowd who share space with neighbors, dog walkers and Giants baseball fans who saturate the area on their way to AT&T park some 82 games a year.
"I just enjoy watching everyone watching the park," said neighbor Alice Rogers, "from the dog walkers to the people sitting on the benches to the picnickers to the sun bathers."
Levy hoped the coming changes would feel almost invisible — as the park's spirit as an urban oasis quietly endured for 162 years.
"I mean we don't want to change any of that," Levy said, "what we want to do is accommodate it a little easier."