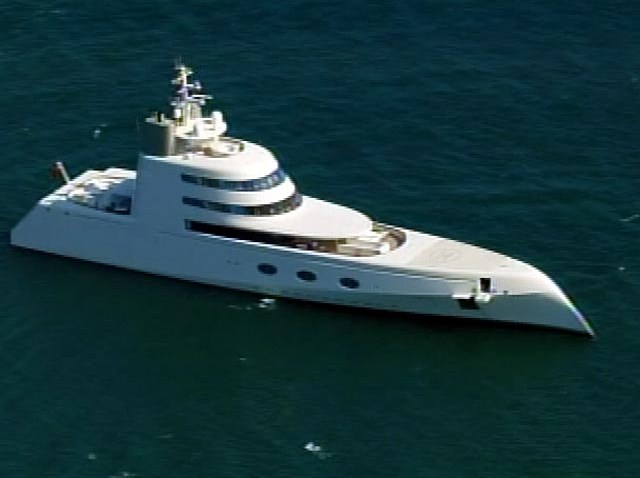 It looks like a $300 million boat that was supposed to be headed to San Francisco is cooling its heels somewhere along the California coast.
The weekend has come and gone with no sightings of the 390-foot super yacht, known as "A." "A" is the aquatic toy of Russian billionaire Andrey Melnichenko, who is just 38 years old.
She was docked in San Diego last weekend and was spotted off Malibu on Tuesday. Her next stop is supposed to be San Francisco, so keep an eye out.
With a $300 million price tag, the boat isn't short on perks. According to a profile in the Wall Street Journal, she has 23,600 square feet of living space, three swimming pools that can go from fresh water to salt with the flip of a switch, and a 24,000 horse power engine. She also comes with some high security features such as bomb-proofed glass and a fingerprint security system.
We'll let boating blog "Yacht Pals" highlight some of the other amenities:
To accommodate other pastimes, Mega yacht A has three swimming pools, a helipad, and three 30' speedboats. In addition, it has all the latest entertainment systems, blinking lights, bells and whistles one would expect on a billionaire's mega yacht. Unlike most yachts, however, which usually sport several spacious decks for lounging in the sun and taking in the sea air (or allowing throngs of nude "models" to do same), A's streamlined design is almost entirely enclosed, which suits her reportedly paranoid (but maybe only A-goraphobic?) owner quite well.
If you catch a glimpse of her in Monterey, Half Moon Bay or Ocean Beach please take a photo and email it to newstips@nbcbayarea.com.
Here's a link to a slideshow with photos of more of the world's biggest yachts.