Sonoma County leaders say they've overhauled their emergency alert system after a state audit found the county was understaffed and had a "limited awareness and understanding of the wireless emergency alert system" and its capabilities during the North Bay Fires.
More than 30 additional staff members are now trained to issue wireless emergency alerts, with roughly six authorized users on duty at any given time.
Despite the progress, county officials caution that problems still remain with the alert system technology that could prevent administrators across the state from notifying residents during the next disaster.
ONE YEAR LATER
In March, Sonoma County hired Chris Godley to serve as Interim Emergency Manager and help redesign its emergency alert procedures.
[[492654221,300,320,L]]
"In any event that's threatening life or significant property, we will make use of all of our alert warning systems, and that includes the wireless emergency alert system," Godley told NBC Bay Area.
The new policy marks a change in the county's approach towards issuing those alerts, which are similar to an Amber Alert that goes to all cellphones in a targeted area.
"Our community has very clearly indicated at this point they're OK with being over-warned," Godley said.
In October, NBC Bay Area spoke with multiple residents who said they never received an evacuation alert as the wildfires raced across Santa Rosa, burning nearly 5,300 homes and killing 24 people. Four days after the firestorm, the NBC Bay Area Investigative Unit asked Sonoma County's then-emergency manager Chris Helgren why the county did not send out a WEA alert to warn residents living in the path of the fire.
Helgren explained that the county would never send a wireless emergency alert to evacuate residents because the system couldn't be used to target specific neighborhoods. Helgren believed the alert would reach too many people outside the evacuation area, causing widespread panic and traffic jams.
"If I send a message out to 500,000 people simultaneously, what's going to happen to those mass of people trying to leave at the same time, especially in the middle of the night," Helgren said last October.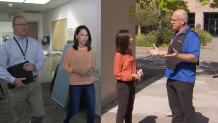 Sonoma County asked the state Office of Emergency Services to investigate its response to the wildfires. Investigators concluded that the county's procedures for using its alert capabilities were, "Uncoordinated and included gaps, overlaps, and redundancies," and found its procedures and policies were "misunderstood."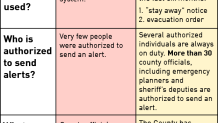 SENDING ALERTS
"Having learned from those experiences, the county has made a number of changes. For one, the county does make use of the wireless emergency alert system now," Godley said. "[Sonoma County] trained additional staff to be able to activate the systems earlier [and] get better information to inform those warning systems."
Sgt. Spencer Crum is one of 22 members of the Sonoma County Sherriff's Office who have been granted access to the WEA system since the wildfires.
"We call it the big red button. ... At any time, we have six people [on duty] able to push those buttons," Crum said. "Last October, the dispatch center did not have access to [issue] wireless emergency alerts."
[[492657451,300,400,L]]
Emergency responders used the WEA system twice this summer to warn residents about potential disasters. In June, officials targeted a portion of the county near Schellville and issued an alert to stay away from a three-alarm pallet fire. In August, the county sent an alert to warn people to shelter in place after deputies found an explosive device.
SENT BUT NOT RECEIVED
After the pallet fire, county staff conducted an informal survey asking people in the area if they received the alert. Godley said only 16 out of the 28 residents interviewed for the survey received the message. Further analysis revealed that AT&T users received the alert, while Verizon users did not because their cell phone towers were unexpectedly outside of the area that the county targeted to receive the alert.
"[Verizon's] cell phone towers were located so far away, the ones that serve that area, that their computer system simply didn't turn on the cell towers," Godley explained.
On Sept. 12, Sonoma County plans to conduct a WEA test to collect more data and determine which carriers have trouble receiving alerts in certain areas. It will be the first WEA test ever conducted on the West Coast. Godley hopes that the information will be helpful to counties across the region.
"By this time next year, Sonoma County will be a leader in California. Not just in alert warning, but in it's an emergency management program," Godley said.
If you have a tip for Vicky Nguyen about this or any other story, you can email her directly at vicky@nbcbayarea.com or you can email theunit@nbcbayarea.com or call 888-996-TIPS.
Follow Vicky Nguyen on Twitter www.twitter.com/VickyNguyenTV and Facebookwww.facebook.com/VickyNguyenTV