The Crews Fire burning in the hills east of Gilroy in rural Santa Clara County has grown to an estimated 5,400 acres with 60% containment as of Wednesday morning, according to Cal Fire.
The state fire agency gave an update shortly after 7 a.m. Wednesday with an update on the wildfire, which was first reported at about 2:45 p.m. Sunday 3 miles east of U.S. Highway 101 near Crews Road.
About 70 people have been evacuated from their homes. The flames have destroyed two residential structures and one person suffered a minor injury, according to Cal Fire. 
The wildfire is currently moving in a southeast direction, threatening a lot of farmland. There are very few homes in the direction of the fire, so mandatory evacuations have not expanded since Sunday night, according to Cal Fire.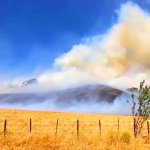 Some ranchers in the area were scrambling to round up their animals and ended up just opening gates and cutting fences so the animals could escape the fast-moving flames, Cal Fire said.
Gilroy police shut down Christmas Hill Park and Miller Avenue, between Uvas Parkway and West Luchessa Avenue, indefinitely to allow fire crews a staging area for equipment and personnel as they battle the blaze.

The Red Cross has set up an evacuation shelter at the Gilroy Senior Center.
To stay up to date on fires burning in the Bay Area, check out our live blog.