A photo of a Pleasant Hill Staples employee donning what appeared to be blackface went viral this weekend, prompting customers and online commenters to demand an apology from the office supply store.
Harold Leffall of Benicia snapped the picture of the employee. In the photo, the store worker can be seen wearing a hairnet and hair curlers, her face completely obscured by what appears to be black paint as part of a Halloween costume.
"I went to ask her where the cash registers were, and she turns around, and she was in blackface," Leffall said. "Honestly, I was shocked. I thought I was being pranked. I didn't know what was going on."
Blackface gained popularity in the 1800s. White performers would paint their faces in burnt cork and act out racist stereotypes for white audiences, a practice that played a significant role in proliferating racist images and attitudes.
Another customer, Geneen Bland, confronted the woman and captured a video of the exchange. The store employee can be heard saying she is dressed as a "Napa Valley spa guest" or a "beauty shop customer," and that the blackface is a charcoal face mask, a beauty product that went viral earlier this year.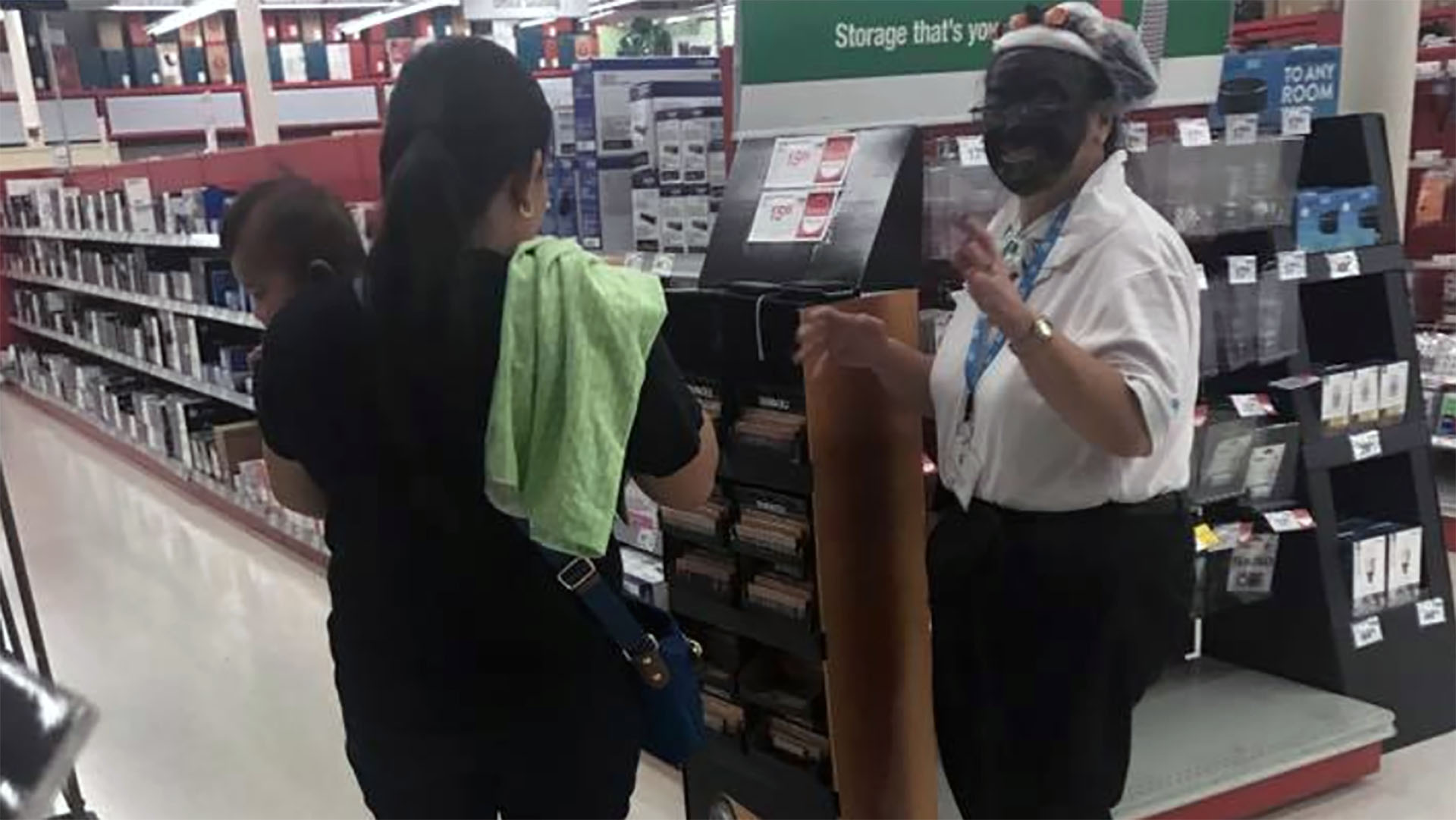 When told the costume could be construed as blackface, the store employee told Bland "I apologize if you feel that way."
"Oh no no no, that's not me," the worker says in the video, explaining that she prefers the charcoal mask to the green ones because it "doesn't flake" on her clothing.
Both Leffall and Bland spoke to managers and requested that the employee take off the mask, but both said they were initially rebuffed. Their complaints weren't taken seriously, it seemed to them. They were also told that the costume was actually "a sharpie costume," meant to represent one of the store's products.
Staples made the same claim about the costume in a statement.
"A representative from HP who was in one of our stores wore a costume for Halloween that they intended to have represent an office product, but didn't realize it could be considered offensive to some of our customers," the store said. "While it was unintentional, it was still inappropriate and once this was raised to the representative, they immediately removed the costume."
The store released a follow-up statement expressing its "commitment to inclusion and diversity" as the incident gained traction on social media.
"Staples again apologizes to those customers in the store and anyone who viewed the images online," the store said.
Marketsource, which represents HP, said the employee has been suspended.
But Leffall, who filed a complaint with the store and has yet to receive a response, isn't convinced. He has also received backlash since posting the photo, receiving hateful messages calling him "oversensitive" and a "crybaby."
"It didn't look like a sharpie costume, it didn't look like a salon customer," Leffall said. "It looked like blackface."
Bland said the "indifferent" attitudes of store employees made the situation worse. She doesn't understand why the staff didn't immediately apologize and attempt to correct the situation.
"I think that if someone did something that was culturally insensitive, I would think that they would acknowledge it and apologize," Bland said of her frustration with store employees. "If you really were sincere, and you didn't want to hurt anyone, you would try to correct it. That's all I was trying to get them to do."
Leffall, who said he will not be shopping at Staples anymore, added that he doesn't hold the employee solely responsible. He believes managers and supervisors should have stepped in and prevented her from wearing the "costume" at work.
"I want to see the company have a clear policy around Halloween costumes," he said. "I'd also like them to have some sort of awareness program about what's acceptable and what's not acceptable because maybe some people don't know."
Bland would like to see a similar program but believes the staffers in Pleasant Hill had ample opportunities to correct the mistake. She would like to see both the manager of the store and the employee disciplined or possibly terminated.
"I want this to send a message that you can't get away with this anymore," she said. "When you're in a work setting, that is not acceptable."