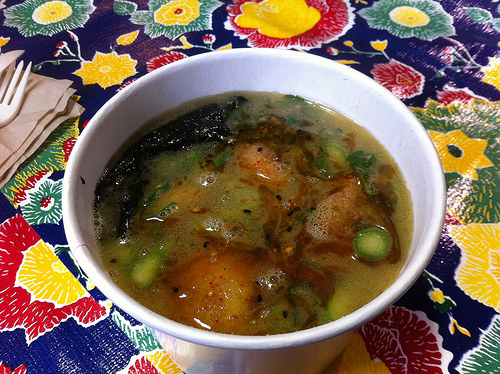 I tend to take fusion cuisine with a grain of salt.

Too many wasabi-creme foams and deep-fried California rolls have made me apprehensive, but done right, fusion can be a beautiful thing. At the Embarcadero's Ferry Building, Hapa Ramen does fusion right by serving up bowls of locally sourced and locally influenced noodles.

I stopped by the Ferry Building on a Thursday, and easily found the Hapa Ramen booth by the long line of hungry office workers. Intrigued by the fried chicken bowl, I ordered a bowl and sat outside to enjoy.

It may not be the prettiest thing to look at, but this was pure comfort food, California style. Instead of bamboo shoots and wakame seaweed, this ramen featured artichoke hearts and asparagus.
The curious combination worked, and I happily munched on the juicy fried chicken before it had a chance to get lost in the broth. The noodles themselves were done right too: chewy and with the right amount of pull.

Hapa Ramen's serving sizes are smaller than the standard ramen served in sit-down restaurants, but if you're ordering at the Ferry Building, you'll have plenty of snack and dessert options afteward.
Hapa Ramen sets up shop at the Ferry Building on Tuesdays and Thursdays from 10 a.m. to 2 p.m., and at Off the Grid at Fort Mason on Fridays from 5 p.m. to 9 p.m.
Mariam Hosseini is a Bay Area native who has been writing about food and travel for six years. She blogs regularly at yogurtsoda.com.