John J. Vogel says he's not exactly sure when his mentorship of Jacob Price became a two-way street, but he is certainly glad it did.
"I was being mentored without even knowing it," John says of Jacob, a 31-year-old with special needs. "I'm absolutely honored to be a part of his life."
John, an actor, producer, and director living in Southern California and Jacob are now working together to raise more than $2 million to produce a film they co-created called Sand Trap.
They hope the story of a washed-up professional golfer learning life lessons from a groundskeeper with special needs (to be played by Jacob) will strike a chord with those within, and outside of, the special needs community.
"We can shine a light on what having special needs is all about," Jacob says.
John and Jacob met close to a decade ago when John took part in a Special Olympics of Northern California event in Lake Tahoe. Jacob, an accomplished skier has won close to 50 medals in Special Olympics competitions.
John says while waiting in line at a Starbucks, he offered to buy Jacob a cup of coffee, and that's when Jacob began to tell him his story.
"My journey begins by having what is called mild retardation," Jacob told John that day. He went on to tell him of the struggles; the bullying and isolation that came with living with special needs.
John thought he might be able to help.
WATCH MORE BAY AREA PROUD STORIES
"I just said, 'Hey, why don't we have a phone call once a week'," John recalls, "and every Monday since we've been getting on the phone."
John says the conversations originally focused on setting goals for Jacob, such as learning to read, and monitoring his progress.
John says, however, that their weekly conversations became more and more personal. "We'd talk about about family, marriage, and having children," John says. "We confided in each other about those things."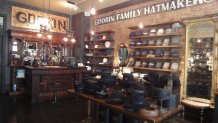 Jacob's mother, Kara Georgeson, says the changes in her son were dramatic. Thanks to John's mentorship, Jacob was becoming more confident and outgoing.
"There are no words to express the gratitude I feel for what John has done," Kara says.
John believes he has already been repaid for any kindness he has shown Jacob. "He's an amazing individual," John says. "Every single person he comes into contact with he touches."
"We've both grown from this experience," Jacob adds.
Somewhere along the way, the idea of working on a movie together developed.
The two say one day, earlier this year, while playing a round of golf in southern California, John and Jacob came up with an outline for their movie. They have since written the script and are in the process of raising money to get it made.
Their hope is to start filming early next year, and have the film finished before June of 2015.