The woman who is presumed dead following a cliff collapse at San Francisco's Fort Funston last week has been identified by loved ones as a 22-year-old who most recently lived in Oakley.
Kyra Sunshine Scarlet was walking on the beach Friday afternoon with her friend and dog when a portion of the cliff gave way. Scarlet's dog and her friend, who was buried in the sand up to her shoulders, were rescued, but Scarlet has yet to be found.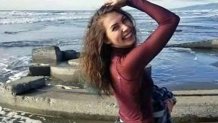 "Kyra Sunshine was a beautiful, sweet, amazing woman," according to a statement released by her family. "She died in one of her favorite places after hiking with her sweet dog Iris and her dear friend."
Shawn Gan held back tears Thursday as he remembered his girlfriend. They lived together in the East Bay.
"She was an explorer. She liked those beaches," Gan said. "She liked being outside, visited a lot of parks, saw a lot of cool things."
Gan said Scarlet's dog tried to dig for her while first responders were on the way Friday. About 60 fire personnel spent hours trying to locate her, but their efforts turned into a recovery.
Through his tears, Gan shared moments he will miss the most.
"Just holding her, listening to her laugh," he said. "She did this happy dance when she was happy."
In a chilling Facebook post from December, Scarlet posted a photo from Fort Funston, not far from the spot where the cliff collapsed. In the post, she wrote about how much she loved the beach.
"She wrote a lot about her feelings," Gan said. "She was a really special person."
Scarlet was born in Florida and raised in Kaysville, Utah, according to her family.
Loved ones have created a GoFundMe page in Scarlet's name.