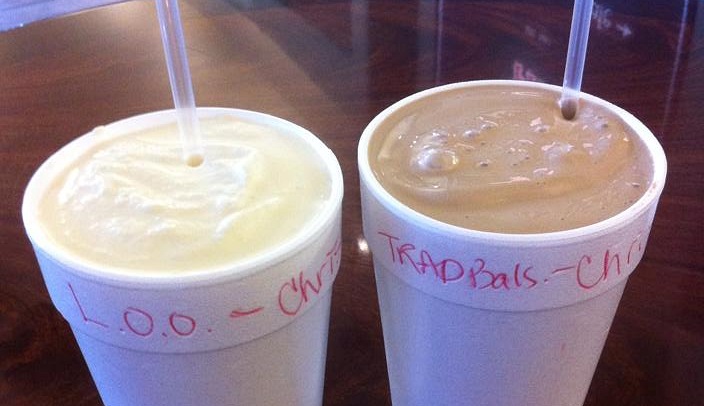 EVERYTHING FOR DESSERT: We're long, looong past the day when certain tastes and flavors were deemed acceptable for the pudding course and certain flavors were scuttled to the supper portion of the meal. True, there was a time when cookbooks stuck to, and hovered near, tried-and-true concoctions involving tapioca and meringue and cookies and ladyfingers and sponge cake, all flavored with vanilla or sugar or booze or all of the above. But dessert went through as big an evolution as the casualing of gourmet-style cooking, and it brought with it new temptations.
UNUSUAL AND AWESOME: Garlic ice cream and salted caramel and other edibles that were heavy, or at least largely influenced by, the sorts of ingredients that once dominated dinner grew in prominence and prestige. So asking if someone would like a milkshake made with 18-year aged balsamic vinegar isn't all that outlandish, nowadays. True, you may be met with a slight pause, but only for a moment, before your foodie friend says "okay, I gotta try this." And try this you can, in Corning, California, the olive grove-rich burg on the way from Sacramento to Redding (or vice versa). The Olive Pit, which just may be the olive-iest shop you've ever laid your pits -- er, pupils -- on, serves up a bevy of milkshakes made with the oils and vinegars you might find alongside a bread basket or appetizer plate.
LEMON OLIVE OIL MILKSHAKE: The deep-toned olive oil milkshakes on the Olive Pit's cafe menu are plentiful. Think Blood Orange Olive Oil Milkshakes and Habanero Olive Oil Milkshakes, too (all of which have that classic milkshake body with an oil-piquant kick at the back end of each sip). The vinegar shakes are even more numerous, with Fig Balsamic, Honey White Balsamic, and Apple Balsamic delivering a trio of distinct tastes. We'd never give up chocolate malts, nor traditional sundaes, but landing in Corning on the way to Mount Shasta for a milkshake redolent of aged balsamic is offbeat and yummy, both. And yes, we said "redolent" and meant it. Pairing a strong, old-world taste like vinegar with the comforting textures from our earliest years puts one in a pretty dang rhapsodic mood.
Copyright FREEL - NBC Local Media