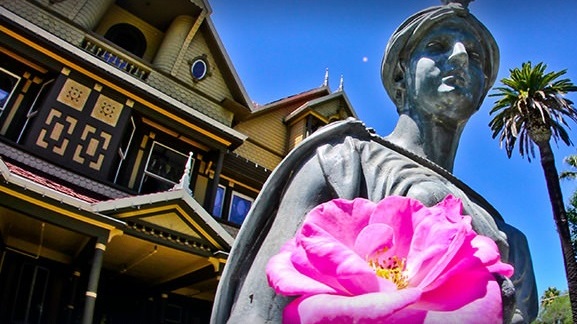 CALACAS, SPIRITS, BREAD: Day of the Dead celebrations happen, well, anywhere an altar can be built and people can gather in memory, song, mirth, and, yes, with some really good food. Cemeteries are popular spots, though, and with fine reason; the dead are known to gather there. But places associated with the afterlife and the spiritual veil are close seconds to graveyards, as the living feel a connection with those who have gone. The Winchester Mystery House is one such famous place. And while the San Jose landmark, a manse made known through Sarah Winchester's long-ago desire to house countless spirits, does mark Halloween, it also embraces the Day of the Dead. The house will in fact be celebrating Dia de los Muertos on Saturday, Nov. 2 and Sunday, Nov. 3 with art, eats, mazes, and tours of all of those hallways (some leading to strange and mysterious places).
MERRY DIA DE LOS MUERTOS: The Consulado General de Mexico de San Jose will assist the house in making "a traditional Dia de los Muertos altar in honor of Sarah Winchester." And the skull-inspired art of Jose Guadalupe Posada will be on display, too (including inside the house itself). Pan de muerto will be handed out, gratis -- you definitely want a hunk of the Dia-sweet deliciousness -- and faces shall be painted, likely in calacas form. Daytime costs during the weekend festival are $8 for grown-ups, $5 for kids; night prices rise slightly. More info? Of course, and happy Day of the Dead to all calacas and calaveras.
AND... while the October Flashlight Tours have wrapped, there's one more due this year: Dec. 13, which, of course, is Friday the 13th. It's a Winchester tradition.
Copyright FREEL - NBC Local Media