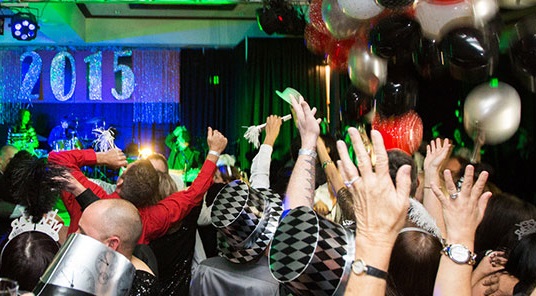 IT'S ONE OF THE OLDEST TROPES... involving New Year's Eve celebrations. Nope, we're not talking about the one where the party poppers won't pop or the Champagne cork won't give or how the balloons in the net above the dance floor wouldn't drop balloons. After all, those are pretty rare instances among what's typically a glittery and good party. But lots and lots of people have talked about transportation issues on the last night of the year, specifically finding a cab or bus after the big party wraps. Where this isn't an issue is the woods, specifically Yosemite, when you're staying at a resort that happens to have its own balloon-drop-y, bubbly-beveraged New Year's Eve bash. You don't need to step outside to hail a ride home, and find one, if you're lucky; you only need to pat the pockets of your jacket or frock to locate your hotel room key (well, and you need to saunter down a few hallways, from the party, to reach your room). Could this be the year that you both A) wake up on Jan. 1 to commune with nature, in a spirit-reinforcing, positive way and B) not have to find that ride home on one of the chilliest and most-people-packed nights of the year? It definitely could be, if you choose to stay at...
TENAYA LODGE AT YOSEMITE, which has posted all the Ps and Qs about its mondo year-ender of a party. Shall there be a special nod to the hotel's 25th anniversary, a silver-shimmery nod of the highest order? Oh, for sure. Will there be lovely dining? You bet; you need sustenance so you can shake it later. Shall there be magic? There shall be, in the form of the cheerful Chipper Lowell, a Comedy Magician of the Year twice over. Will there be a caboodle of performers, like Dueling Pianos and The Valley Cats, lending their voices and instrument-playing talents to the celebration, the better to get revelers out on the dance floor? It hardly would seem like a traditional NYE event without some shakin' of your stuff. Shall there be party favors, the better to toot horns at midnight? Lots of favors. And will there be balloons falling from the ceiling, and the all-important toast when the clock strikes twelve? Yes and heck yes.
STAY AND HIKE THE NEXT DAY: There's a Tenaya Lodge stay-over deal, for couples starting at $499 per pair, but you can nab a ticket to the party for a hundred and a half, if you're over at The Wawona or another nearby property. But staying the night means you get to wake up near the woods, the better to start your next 365 days in a peaceful, meditative, walk-and-think way. And that seems a tad gentler than starting the new year in a rush to find a ride at 12:15 in the morning. Don't the woods set our heads right? Especially after a night of a bit too much bubbly? Lucky for you you booked a room right down the hall.
Copyright FREEL - NBC Local Media