Roughly three hours after Caltrans crews commenced demolition on the crumbling Pfeiffer Canyon Bridge in Big Sur, work came to a halt.
That's because a 6,000-pound wrecking ball was no match for the thick concrete structure, which is being torn down after torrential rains and large landslides weakened the surrounding landscape and triggered the bridge to crack.
Video of the demolition captured the wrecking ball, which was suspended by a crane, slowly being lowered down before smacking the roadway without making much of a dent.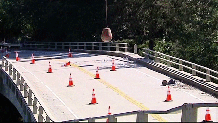 "This kind of thing is kind of inherent to construction where you get to a construction site there can be surprises, there can be equipment breakdowns," Caltrans spokesperson Jim Shivers told NBC affiliate KSBY. "We need to put our heads together and find a different strategy on how to do things."
Crews plan to tackle another attempt at demolition Tuesday morning.
The busted bridge, which has severed the Big Sur community into two parts and left some residents without access to grocery stores, likely will not be completely fixed for at least one year.
The Associated Press contributed to this report.