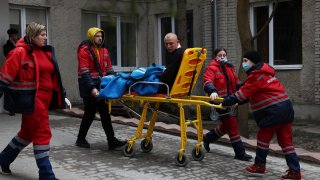 At least nine people were killed and 57 wounded when a Russian airstrike hit a military training base in western Ukraine close to the Polish border, a local official said Sunday.
The governor of the Lviv region, Maksym Kozytskyi, said Russian forces fired more than 30 cruise missiles at the Yavoriv military range, located 30 kilometers (19 miles) northwest of the city of Lviv and 35 kilometers (22 miles) from Ukraine's border with Poland.
The assault brought the war closer to the border with Poland. A senior Russian diplomat has warned that Moscow considered foreign shipments of military equipment to Ukraine "legitimate targets."
The United States and NATO have regularly sent instructors to the range, also known as the International Peacekeeping and Security Center, to train Ukrainian military personnel. The facility has also hosted international NATO drills.
Russian fighters also fired at the airport in Ivano-Frankivsk, a city in western Ukraine located 250 kilometers (155.34 miles) from Ukraine's border with Slovakia and Hungary.
This is a live update. Click here for complete coverage of the crisis in Ukraine.
Copyright AP - Associated Press