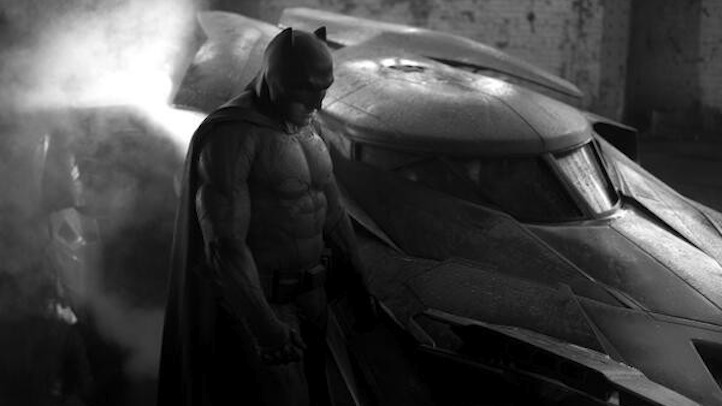 We have the first look at Ben Affleck as Batman!
Earlier Tuesday, director Zack Snyder shared the first photo of the Oscar winner in full Caped Crusader costume on the set of the upcoming "Man of Steel" sequel. "I shot this with my @Leica_Camera M Monochrom. #Batman #Batmobile #Gotham," Snyder captioned the Twitter shot.
In the pic, Affleck looks insanely buff under his Batman armor, which features muscle detailing over his pecs, abs and arms. The 41-year-old's face is covered by the pointy-eared Batman mask. His costume is complete with a long black cape.
U.S. & World
PICS: Batman through the years
Behind Affleck is the impressive Batmobile ride, which is surrounded by haunting fog.
Snyder's full-costume photo of Affleck is a follow-up to yesterday's Twitter pic, which teased a first look at the brand new Batmobile (see below). "Could be time to pull the tarp...Tomorrow?" Snyder wrote, along with a shot of the ride partly covered by a tarp.
Affleck landed the famed superhero role back in August 2013. The upcoming "Man of Steel" sequel, which will once again star Henry Cavill as Superman, hits theaters May 6, 2016.
PHOTOS: Affleck's biggest roles
I shot this with my @Leica_Camera M Monochrom. #Batman #Batmobile #Gotham http://t.co/WPHKLxgBLM pic.twitter.com/p5DEf6fLzJ — ZackSnyder (@ZackSnyder) May 13, 2014
Could be time to pull the tarp...Tomorrow? http://t.co/Nmm0QqWYYH pic.twitter.com/E6iKluZNDj — ZackSnyder (@ZackSnyder) May 12, 2014
Copyright E! Online