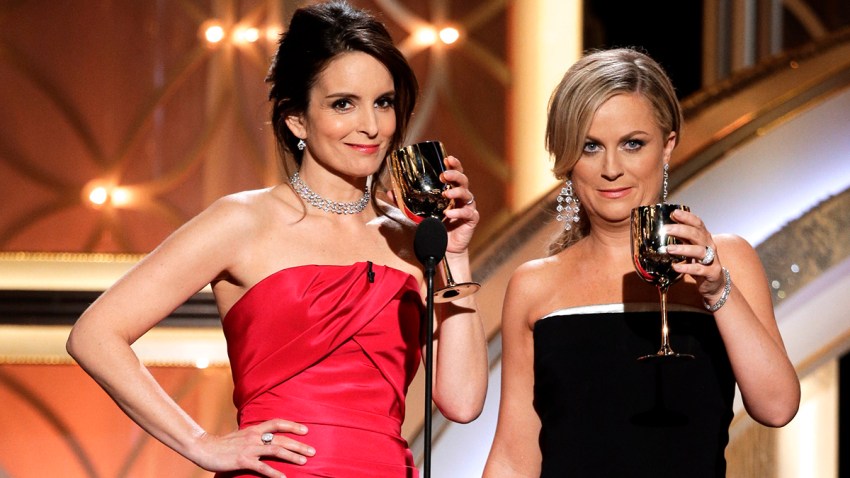 This Sunday, the stars of the big screen and the small screen come together with alcohol at the Golden Globe Awards to congratulate each other on another year of playing pretend for money.
Also, Tina Fey and Amy Poehler are returning as hosts to light up our lives with their flawless selves.
Below, 20 things that we almost guarantee will happen during the live telecast on NBC:
1. Tommy Lee Jones will look like he's close to choking out the camera crew every time the show cuts to him.
2. Someone will make a Sony hack joke.
3. Jake Gyllenhaal's performance in "Nightcrawler" will be described as either "haunting" or "disturbing." Guaranteed.
4. Bill Murray will do something very Billy Murray-ish.
RELATED: Every Joke From Tina Fey and Amy Poehler's 2014 Golden Globes Monologue, Ranked
5. There will be a Hulk vs. Hulk joke in the Best Supporting Actor in a Motion Picture category aimed toward Mark Ruffalo and Edward Norton.
6. Amy and Tina will make us sigh heavily and curse the sky because we aren't best friends with them.
7. Meryl Streep will reign supreme, even if she wins zero awards.
8. Someone will make a connection between "Gone Girl," Rosemund Pike and Taylor Swift's "Blank Space" video.
9. There will be some kind of bit about Tina and Amy popping the Golden Globe cherry for "Jane the Virgin's" Gina Rodriguez. Gina will laugh at the joke and look perfectly adorable in the audience.
PHOTOS: The best and worst moments of the 2014 Golden Globes
10. Everyone will miss Lupita Nyong'o terribly.
11. Someone will reference the passing of Joan Rivers and how the red carpet just isn't the same without her.
12. Jennifer Aniston will get at least three questions on the red carpet about "finally" being taken seriously as a dramatic actress thanks to her role in "Cake."
13. These two puns will be made regarding Benedict Cumberbatch's pregnancy news: "Cumber-baby" and "Cumber-bun in the oven!"
14. Ben Affleck's penis in "Gone Girl" will be mentioned at least once.
15. There will be a "Serial" joke in the opening monologue.
PHOTOS: Check out big stars caught in candid moments at the Golden Globes
16. The media will trip over themselves when George Clooney shows up with new beautiful wife, Amal Alamuddin. Literally. One reporter will fall over just at the mere sight of them.
17. Leonardo DiCaprio won't win a Golden Globe (low blow, we know, but this is accurate as he is not nominated).
18. Emily Blunt and John Krasinski will make you positively green with envy over their perfect couple-ness as they glide along the red carpet.
19. We will throw something at the TV when we are reminded that "Parks and Recreation" was horribly, brutally snubbed.
20. Chris Pratt will be the best interview on the carpet.
Copyright E! Online