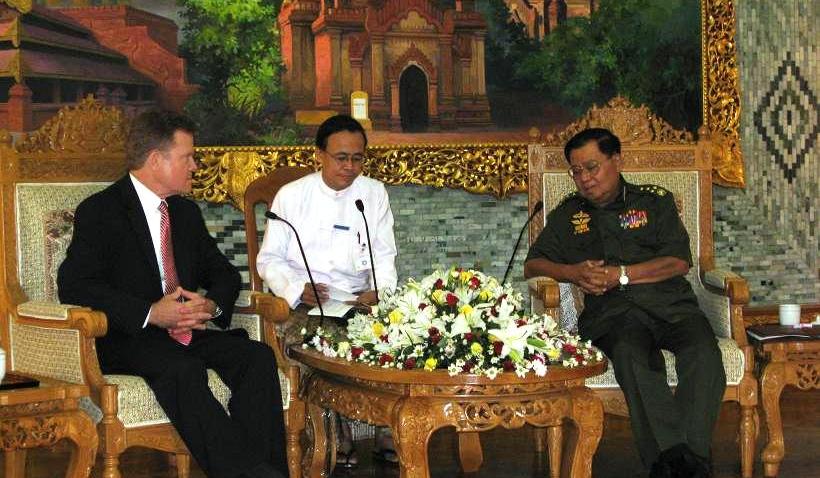 U.S. Senator Jim Webb (D-Va.) has written about "swashbuckling Americans seeking out adventures in exotic locales" before.
Now the former Vietnam combat Marine has made his fiction a reality by winning the release of American prisoner John Yettaw and receiving a rare visit with Nobel Peace Prize Laureate Aung San Suu Kyi and, separately, another visit with the reclusive head of the Myanmar's ruling military junta, Senior General Than Shwe.
The trip -- the first by a member of Congress in more than a decade -- received much coverage on Myanmar's state-run television.
Since junta leaders crushed pro-democracy protests in 1988, "Washington has maintained a virtual blackout on Burma relations, declining to assign an ambassador to the country and promoting a policy of economic isolation to keep its leaders from benefitting from trade ties," Time Magazine reports.
Critics had said that Webb's visit would legitimize a brutal regime, especially in light of the regime's most recent sentencing concerning Suu Kyi, who has spent 14 of the last 20 years in detention in Myanmar for her pro-democracy activism.
She was convicted for violating the terms of her previous house arrest by allowing Yettaw -- the Missouri man who had swum to her lakeside house from Rangoon in May -- to stay with her for two days.
Yettaw, who had been sentenced to 7 years' hard labor for assisting Suu Kyi in violating the terms of her house arrest, was officially deported to the U.S. Sunday, the U.S. Embassy said.
Webb, chairman of the Senate Foreign Relations Committee's East Asia and Pacific Affairs Subcommittee, brought Yettaw out of the country on a military aircraft that is returning to Bangkok on Sunday afternoon.
Yettaw was handed over to a consular official early Sunday evening to begin his trip back to the U.S. He is reportedly ill and suffers from epileptic seizures.
Webb's visit to Myanmar was given an official blessing from the Obama administration.