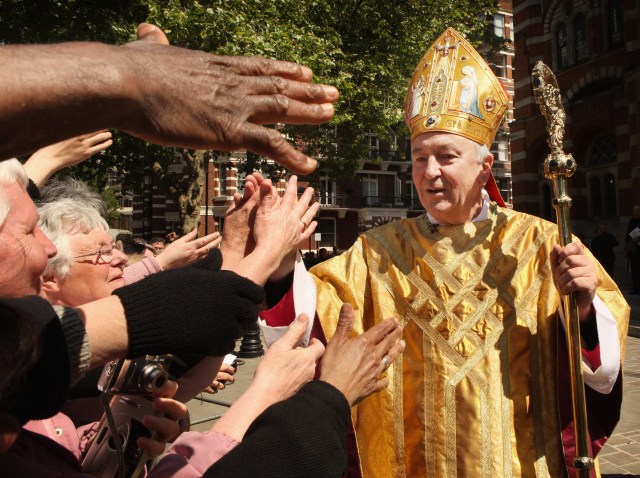 In January, Pope Benedict called social networking a "gift" – but warned that "obsessive" use of services like Facebook could lead to social isolation. Four months later, the Vatican established a papal Facebook page in an apparent bid to reach out to young Catholics.
Now a Catholic archbishop in the UK is a taking the Pope's concerns about social networking a giant step further, charging texting "dehumanizes" community life and that Facebook and MySpace could contribute to teen suicide by fostering "transient relationships."
"They throw themselves into a friendship or network of friendships, then it collapses and they're desolate," Archbishop Vincent Nichols, the spiritual leader of Catholics in England and Wales, told The Sunday Telegraph.
The comments risk making Nichols appear out of touch. His words also underscore the Church's ambivalence toward the Internet age.
But is there any truth in what he says? Judge for yourself:
"I think there's a worry that an excessive use or an almost exclusive use of text and emails means that as a society we're losing some of the ability to build interpersonal communication that's necessary for living together and building a community," he told The Sunday Telegraph. "Too much exclusive use of electronic information dehumanizes what is a very, very important part of community life and living together."
Nichols added that too much emphasis is being placed on friend counts on social networks like Facebook: "But friendship is not a commodity, friendship is something that is hard work and enduring when it's right."
The archbishop cited the recent death of a 15-year-old British girl who overdosed on painkillers, reportedly after being mocked by bullies on the social networking site Bebo. But can Megan Gillan's death – which is still under investigation and a tragedy by any standard – be blamed on social networking?
She met her alleged tormentors at school, not on the Internet. Bullying can take place anywhere, though the Web certainly provides an additional forum and the public nature may add an extra string.
Teenagers, no doubt, are some of the most vulnerable users of the Internet, facing potential threats from adult predators as well as hurtful comments from peers. Today's teens are among the first to grow up in the full-blast social networking era, so perhaps the complete effect can't yet be judged.
The power of social networking to bring people together over common interests, nurture personal relationships and renew old friendships is still being weighed against its potential to isolate those who live online, and to be used as a tool of harassment. Common sense, moderation – and, in the case of children, careful parental involvement – would seem key in striking a balance.
Nichols, by the way, is well represented on Facebook. There's a page in his name (though it's unclear if he set it up himself). There's also a page called "Supporters of Archbishop Vincent Nichols" and another titled "NOOOOO to the new Archbishop of Westminster, the Most Rev Vincent Nichols."
Which page would you join? Use the comments section below to weigh in.
Hester is founding director of the award-winning, multi-media NYCity News Service at the City University of New York Graduate School of Journalism. He is the former City Editor of the New York Daily News, where he started as a reporter in 1992.
Copyright FREEL - NBC Local Media