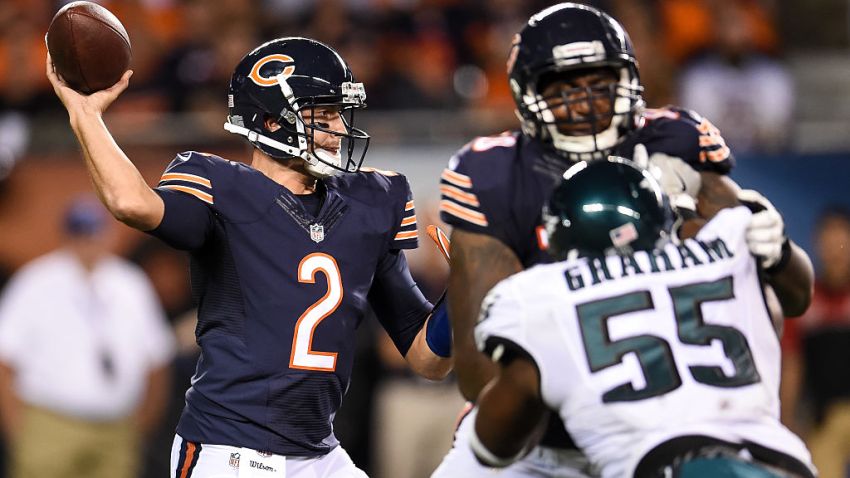 Before Brian Hoyer signed as a free agent with the 49ers, the quarterback compared his former offensive coordinator, Kyle Shanahan, to a Hall of Fame-bound NFL coach.
Hoyer, who's now playing for Shanahan again in San Francisco, was a starter in Cleveland with Shanahan in 2014 when he built a 7-6 record as a starter. This January, Hoyer told a reporter that his time with Shanahan reminded him of his three years in New England with Bill Belichick.
"For me, you just know those two, when you see them in the building, they're constantly thinking about football," Hoyer said. "That's the one thing I really admired about Kyle. You knew when he was there, he was putting the work in, that's all he was focused on. He might walk by you in the hallway and you'd say, 'Hey, what's up, Kyle?' and he'd keep walking."
In other words, Shanahan was like Belichick, with X's and O's constantly swirling through his mind, lost in his own football world.
Now Hoyer is billed as the 49ers' starting quarterback in 2017, and he's reunited with Shanahan this week in the team's organized team activities (OTAs). Hoyer is back on the field, working out of Shanahan's playbook again, and it's something that feels very familiar. All that work together in Cleveland is making Hoyer feel at home as a 49er.
"It's easier to call the plays this time around," Hoyer told reporters Wednesday. "I remember the last time kind of having to think about it. Whereas now, when I hear Kyle start to call a play, I can put it together. It's something I don't really think about anymore. It comes naturally to me."
Hoyer may not be a Pro Bowler, but at 31, the former Michigan State standout has shown he can be an effective NFL quarterback when given the chance. In brief stints as a starter with the Cardinals, Browns, Texans and Bears, he has a 16-15 record and has thrown for 44 touchdowns vs. 26 interceptions.
Shanahan is banking on Hoyer to lead his new offense and help the franchise began the steep task of rebuilding.
"We're in the beginning stages of building a foundation for this offense," Hoyer said Wednesday. "We've got to start at the bottom (and) learn all the concepts."
Hoyer said these OTAs will go a long way toward setting a foundation and getting all the team's new veterans and draft picks on the same page.
"(We're) just kind of learning that base offense, and then hopefully as these next eight practices go, we keep getting better and start putting more in and things kind of start to settle down a bit," Hoyer said.