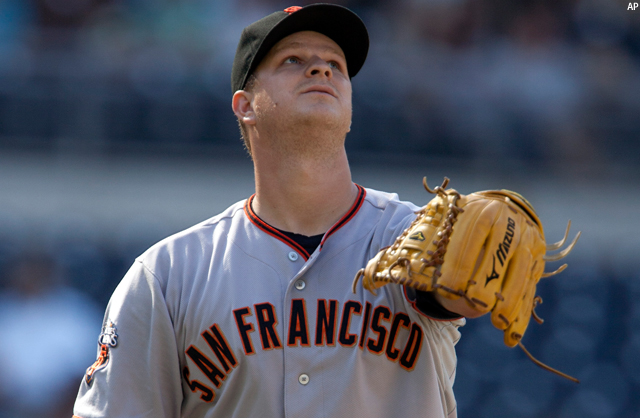 Aaron Harang threw seven strong innings and Cameron Maybin had two hits and an RBI as the San Diego Padres dealt a big blow to the San Francisco Giants' fading playoff hopes with a 3-1 victory Wednesday night.
The Giants, who have 19 games left, came into the game trailing NL West-leading Arizona by six games.
San Francisco rookie Brett Pill homered for a second straight game after he hit a home run Tuesday night in his first major league at-bat.
Will Venable had a solo homer and scored twice, while Maybin doubled and tripled in a run in the ninth.
The Padres got clutch defensive plays by Venable and Maybin.
The first was by Maybin, who made a long running catch while crashing into the wall in left-center field to rob Justin Christian leading off the game. Maybin hit his forehead on the padded wall and was on the ground for about a minute before he got up and stayed in the game.
Venable threw out Pill at home in the seventh when the rookie tried to score on a medium fly ball to right by pinch-hitter Pat Burrell.
San Diego won for the second time in 13 games overall. The Padres had lost six of their previous seven home games against San Francisco.
Harang (13-5) broke a two-start losing streak by allowing one run and four hits in seven innings. Harang, who struck out three and walked three, is 2-0 with a 0.90 ERA in three starts this season against the Giants, all at Petco Park.
Heath Bell got the final four outs for his 36th save in 40 chances. Bell replaced Chad Qualls in the eighth and threw one pitch to retire Carlos Beltran on a line drive to right with a runner on first and two outs.
Matt Cain (11-10) gave up two runs and four hits over seven innings. The right-hander struck out seven and walked three.
Cain, making his 200th career start, dropped to 8-19 lifetime against San Diego.
Venable led off the Padres' first with his seventh homer to right. It also extended his season club record for leadoff homers to five.
The home run was the third allowed by Cain in his last 20 starts. Overall, Cain has given up only eight homers.
Pill tied the game with a homer leading off the fifth. Pill joined John Bowker as the only two players in franchise history to homer in their first two major league games.
Pill homered off Wade LeBlanc on Tuesday night in his first major league at-bat, a two-run shot in the second inning of the Giants' 6-4 win.
The Padres took a 2-1 lead in the sixth when Jesus Guzman singled in Maybin, who reached on a two-out double.
Notes: Cain has pitched 203 innings this season, the fifth straight season he has reached the 200-inning mark. ... Bowker homered in his major league debut on April 12, 2008, and again the next day. ... It is "improbable" that Padres INF Logan Forsythe will play again this season, according to manager Bud Black. Forsythe has not played since Friday with an inflamed patellar tendon in his right knee. But Black said Forsythe's surgically repaired left knee is bothering him and will likely end his season. ... After a day off, Giants RHP Tim Lincecum (12-12, 2.75 ERA) will attempt to beat the Los Angeles Dodgers for the first time this season in four starts (0-2, 1.86) on Friday to open a six-game homestand. LHP Clayton Kershaw (17-5, 2.45) pitches for the Dodgers. ... LHP Cory Luebke (5-8, 3.29) will start for the Padres on Thursday at Arizona, facing NL wins leader RHP Ian Kennedy (18-4, 2.96).

READ MORE ON CSNBAYAREA.com