NBC Bay Area's Jessica Aguirre spoke to members of the Final Five gymnastics team on Thursday, Day 13, of the Olympics. Here are some highlights of those interviews:
ALY RAISMAN:
Cloud Nine: Aly Raisman said she's "pretty tired" after winning one gold and two silver medals at the Rio 2016 Olympics, but I feel like "I'm on cloud nine. It doesn't feel real yet." She added that she can't thank her parents and her coaches enough for everything they've done. Does she feel different from 2012 when she took home gold medals in the team and floor competitions, as well as the bronze medal on the balance beam? Not really. How did she feel before this Olympics? "It was nerve wracking, but I felt very confident and calm because I was ready."
As for what's next: She and the rest of the gymnastics Team USA are heading off on a 36-city publicity tour.
[Rio2016 - Gymnastics] Golden Five: US Women's Gymnastics Team Final
GABBY DOUGLAS AND LAURIE HERNANDEZ:
Amazing Journey: First-timer Olympian Laurie Hernandez, who won a gold and silver medal, said this "journey is amazing especially with all these girls. I was glad I could hit all the routines. I have no regrets." Veteran Olympian Gabby Douglas, who won a single gold medal this year , added: "It was phenomenal. I can't complain."
Neither gymnast wanted to discuss too deeply what it meant to by an athlete of color participating in the games and being a representative for the African-American and Latino communities. "I'm just glad I could put a good name out here for Team USA," Hernandez said. And Douglas added that she felt it was important to "represent yourself as the best that you can, just being you, representing your community."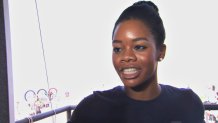 SIMONE BILES AND MADISON KOCIAN:
Touring, Pizza Party: Simone Biles and Madison Kocian both said the glory and gold of the Olympics hasn't sunk in yet. "We're just trying to take it all in and think about it," Biles said, adding they hope to have a little fun on Rio's beaches and getting a closer look of the Christ of the Redeemer statues that looms over the city. As for being dubbed the best gymnast in the world? "I guess I haven't thought much about it. It still hasn't hit me yet."
As for showing off when they get home to their friends, Kocian said that's not going to happen. "We're pretty low key," she said. What they most want? A huge pizza party.