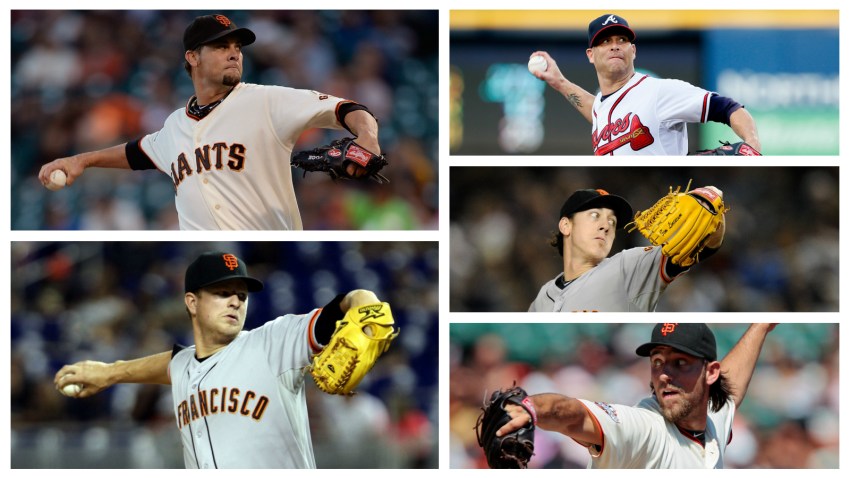 When the San Francisco Giants' 2013 season came to end, their rotation was looking a bit thin.
Matt Cain and Madison Bumgarner were the only two starters guaranteed to be pitching for the orange and black in 2014. Tim Lincecum appeared to be ticketed for free agency, Barry Zito's monster contract finally came to an end and Ryan Vogelsong's future with the Giants was still uncertain.
But the Giants filled those voids rather quickly -- about a month after the World Series.
First, the Giants filled a third slot in their rotation by re-signing Tim Lincecum to a two-year, $35 million deal.
Next, AT&T Park's expansive dimensions and crowd electricity seemed to have wooed free-agent pitcher Tim Hudson to return to the Bay Area and sign with the Giants. The fourth open slot was locked in.
And the last piece of the puzzle was Vogelsong's return, who recently agreed to terms on a one-year deal, according to Comcast SportsNet Bay Area.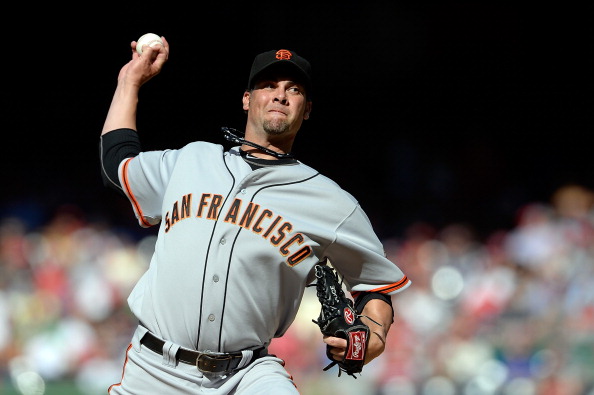 Vogie's return to San Francisco, however, was far from certain. His wife, Nicole Vogelsong, seemed to understand this.
Was a long month waiting on news about our future. Hard to fathom Ry anywhere else. Thanks for the immense love, best 3 years of our lives. — Nicole Vogelsong (@nicolevogelsong) November 5, 2013
Henry Schulman of the San Francisco Chronicle was the first reporter to tweet the Giants were moving toward a deal to bring back Vogelsong.
I'm hearing the #sfgiants are moving toward a deal to re-sign starter Ryan Vogelsong. — Henry Schulman (@hankschulman) November 28, 2013
The right-hander was a good story for the Giants when he signed with them on a minor-league deal in 2011 -- up until last year. After coming back from the Japanese League following unsuccessful stints in Pittsburgh and his first go-around with the Giants, he posted a 13-7 record with a 2.71 ERA in 2011.
Vogelsong had a year to forget in 2013, which most likely prompted the Giants to decline his $6.5 million option earlier this month. In an injury-plagued season, he went 4-6 with a 5.73 ERA in just 19 starts.
The Giants appear confident that last year was an aberration and that he will return to his successful 2011-2012 form.
Overall, Vogelsong is 31-25 with a 3.71 ERA in five years with the Giants. The Vogelsong deal is pending a physical, according to Assistant General Manager Bobby Evans.
Now, the 2014 Giants rotation could look like this (along with each pitcher's 2013 stats):
1. Matt Cain (8-10, 4.00 ERA)
2. Madison Bumgarner (13-9, 2.77 ERA)
3. Tim Hudson (8-7, 3.97 ERA)
4. Tim Lincecum (10-14, 4.37 ERA)
5. Ryan Vogelsong (4-6, 5.73 ERA)
For more stories from The Cove, click here.