As the 49ers headed to the postseason, many were wondering how Jim Harbaugh's game of quarterback roulette would play out.
After replacing very effective veteran quarterback Alex Smith with unproven second-year pro Colin Kaepernick in November, the head coach of the Niners left himself open to second-guessers everywhere.
As former 49ers quarterback great Steve Young told a reporter this week, "Jim went all in. But that's Jim. That's his nature."
If Kaepernick turned out to be the X-Factor to take his team to the next level, Harbaugh would get the genius tag. If Kaepernick flopped, he'd get the dunce cap.
After Saturday night's playoff victory over the Green Bay Packers, the 49ers head coach has qualified for Football Einstein.
Kaepernick, in his first NFL playoff game, was brilliant Saturday night, leading the 49ers to a 45-31 victory over the Packers in a divisional-round game at Candlestick Park. The Niners now advance to next Sunday's NFC Championship Game against the winner of this weekend's Seahawks-Falcons matchup.
Kaepernick rushed for an NFL-record 181 yards – the most by a quarterback in the history of the NFL – with TD runs of 20 and 56 yards.
He also completed 17-of-31 throws for 263 yards and two more scores and led an offense that dominated the Packers, particularly as the game wore on.
San Francisco compiled a franchise playoff-record 579 yards of total offense, including 323 on the ground. Frank Gore, who rushed for 112 yards in San Francisco's season-opening victory over the Packers in Green Bay in September, topped that with 119 yards in the rematch, which included a 2-yard touchdown run.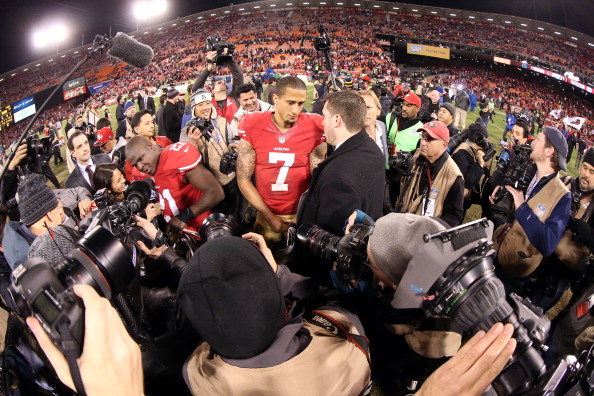 For the Niners, the night began ominously, with Kaepernick throwing an ill-advised pass on his second attempt that was intercepted by Green Bay's Sam Shields and returned 52 yards for a TD.
But, San Francisco responded on its next possession, driving 80 yards in six plays, capped off by Kaepernick's 20-yard sprint to the end zone. The Niners then scored twice more on Kaepernick-to-Michael Crabtree throws in the second quarter and went in at halftime up 24-21 on David Akers' 36-yard kick.
In the third and fourth quarters, San Francisco pulled away for the win. Kaepernick sprinted untouched 56 yards for a score on a read-option play out of the Pistol formation, then the Niners pounded home two more scores on short runs by Gore and Anthony Dixon.
"It feels good," Kaepernick said on Fox after the game. "We're one step closer to where we want to be."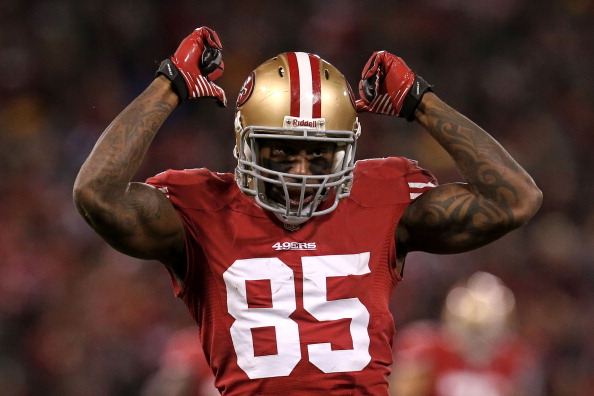 Kaepernick acknowledged he made a bad decision on the interception that put his team in an early hole, but said he knew there was "a whole game left to play." He credited the 49ers' offensive line for "an amazing job" all night, in both protecting him and opening holes in the defense.
On defense, meanwhile, the Niners were able to contain the Packers' high-powered offense (Aaron Rodgers threw for a less-than-usual 257 yards), which scored a late touchdown to make the margin closer than it seemed.
Defensive end Justin Smith, who tore his left triceps in mid December and hadn't played since, was able to play the entire game, drawing double-team blocks and making a team-high three tackles in the first half.