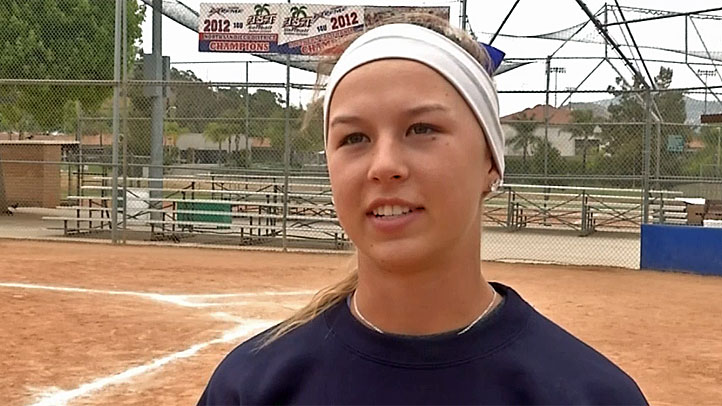 Poway athlete Kourtney Shaw says she was often overlooked in youth softball because of her small size.
Now, the high school sophomore is planning to play for one of the best colleges in the country.
"It was really exciting. It was unreal. I never thought I'd be committing as a sophomore," Shaw told NBC 7 San Diego.
Shaw updated her Facebook cover photo two months ago to add an image of her in her Titan letter jacket standing with UC Berkeley coaches Diane Ninemire, Tammy Lohmann and John Reeves.
Shaw and coach Monica Fenton said the Cal Golden Bears have made a verbal commitment to Shaw even before she finishes her second year of high school.
Why commit to her so early? Shaw's overall record is 16-6 with her league record at 3-1 according to high school sports website Maxpreps.
With her average speed nearly 60 miles per hour for a fastball, it's not the power of her pitches that caught Cal's attention according to her coach.
Fenton says it's how the pitches break unexpectedly that make them very hard to hit.
"I like the screw which is inside to righty batters because I get 'em all on strikeouts," Shaw said.
More and more, girls are getting verbal commitments at a young age to secure the best players for their team.
"It's actually becoming the trend, especially for pitchers, for young players, colleges are putting them on a watchlist really early," said Fenton.
Understanding that college will likely be the pinnacle of her career, Shaw said she's already thinking about what she'll study.
"I'm kinda looking into physical therapy or athletic training because I'm really into sports and I don't want to lose that," she said. "I'm sure I can find something in that area up at Cal."
Shaw says some girls are getting offers as early as 8th grade to join top softball.