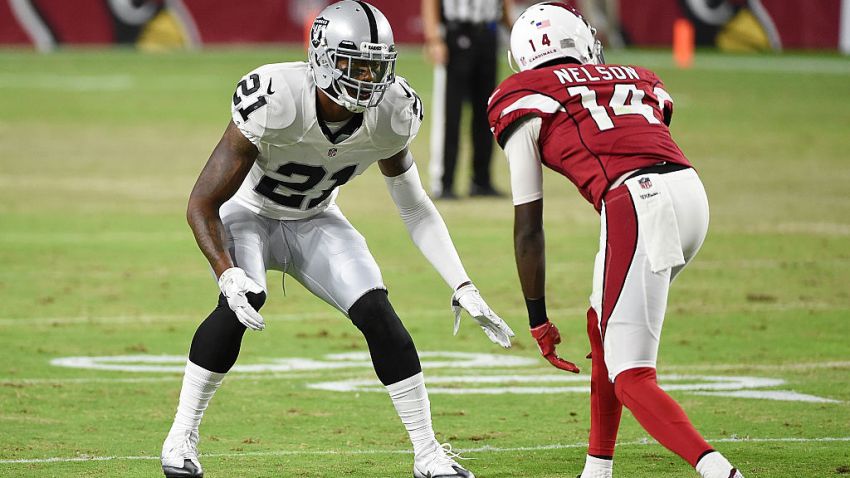 When Sean Smith came to the Raiders, he was billed as a shutdown corner. The standout with the Kansas City Chiefs signed a free-agent deal worth about $40 million this past offseason.
But in the season-opening game against the New Orleans Saints, Smith was toasted early and often. He gave up four completions for 183 yards and was benched after giving up a 98-yard touchdown reception to Brandin Cooks.
Said Smith, after the game: "I was getting killed."
Later, head coach Jack Del Rio told Smith he'd have to "own up" to his performance and come back strong "to face the music."
To date, that's exactly what Smith has done.
After a very rough early start, Smith has transitioned back into being one of the NFL's elite corners.
In the Raiders' most recent game, a loss to the Chiefs, the analytics website Pro Football Focus gave him a solid grade – one of many he's received this season. Smith has two interceptions, 11 passes defensed and has been in on 34 tackles.
This week, Smith was included in Pro Football Focus' list of the top 10 free-agent signings for 2016, a recognition that seemed impossible in September.
Wrote Michael Renner of PFF: "Few corners have been better (since his bad start). Over the first two weeks of the season, he surrendered 250 yards and three touchdowns. In the 11 games since, he's yielded only 346 yards and one touchdown. The Raiders still have some issues defensively, but they haven't been because of Smith."
The Raiders certainly will need him to play well Sunday when Smith and his 10-3 team face quarterback Philip Rivers and a 5-8 Chargers team that ranks No. 6 in the NFL in passing, at 262.8 yards per game. Kickoff is set for 1:25 p.m.