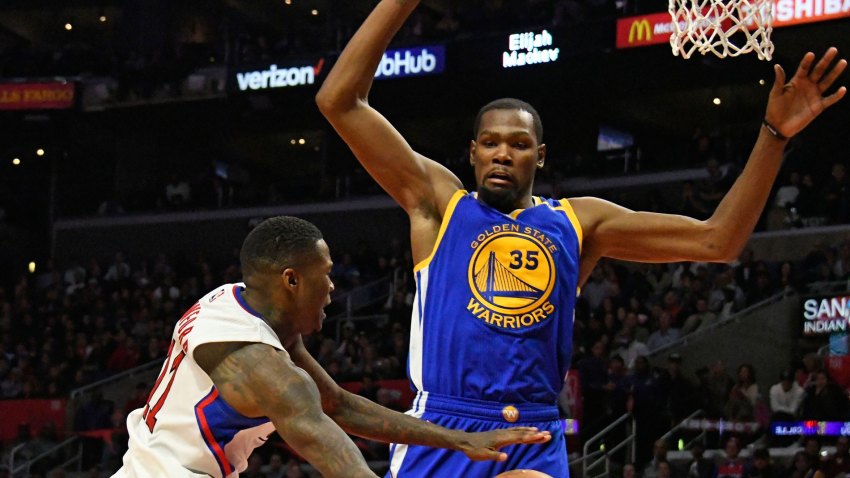 LOS ANGELES – Once robust, the fabled Warriors-Clippers rivalry is rapidly going the way of the typewriter.
When the Warriors strolled walked into Staples Center Wednesday night and laid a 115-98 mashing on LA, prompting much of the sellout crowd streaming toward the exits in the fourth quarter, it was seventh consecutive time they have throttled the Clippers.
More deflating for the Clippers and perhaps the rest of the NBA is that this much-hyped game, with LA's new and improved defense ranking No. 1 in the league, was supposed to be more competitive than the previous six losses.
It was, instead, a 17-point victory, the biggest Warriors rout yet.
Though the Warriors shot a respectable 47.7 percent (but only 23.3 percent beyond the arc) and also lost a tight rebounding battle, 46-45, they did most everything else so well the Clippers were done before the first quarter was over.
They had 32 assists and only 11 turnovers. They held LA to 39.6-percent shooting, while forcing 14 turnovers, leading to 16 Warriors points.
"Defensively, that's where we won the game," Kevin Durant said.
"If we defend like that and take care of the ball, even on a night when shots aren't going in, we have a chance to win anywhere," coach Steve Kerr said. "Even on the road against a great team."
The Warriors (19-3) locked up star forward Blake Griffin, holding him to 12 points on 5-of-20 shooting – and an unsightly seven turnovers – mostly under the unyielding defense of Draymond Green.
In a game circled on their calendar, the Clippers' starting five finished with 41 points – less than the combined totals of Klay Thompson (24) and Green (22).
The Clippers (16-7) lost this game on merit, perhaps more than the Warriors won it. Committing nine first-quarter turnovers, which the Warriors turned into 8 points, LA looked like a team that was not prepared to play an NBA game, certainly not under the microscope of national TV.
The game was advertised never materialized, partly because the Clippers were so bad and partly because the Warriors were appropriately ruthless in taking it.
"It happens," Clippers coach Doc Rivers said. "You go into a game that you really want to do well, things don't go well for you, and you lose it sometimes."
Largely thanks to Clippers turnovers, the Warriors smoked LA in paint points, 58-38, as well as fast-break points, 27-11. The Warriors had 12 steals, including a career-high-tying seven by Stephen Curry.
"When we get a steal, especially live-ball turnovers, it's three-on-one and you've got to pick your poison," Durant said. "We were getting layups, we were getting wide-open 3s – although we missed a lot. But for the most part, when we get out and run that kind of ignites us, no matter if we miss or make the shot."
So it didn't matter than Curry failed to make a 3-pointers for only the second time this season, or that Durant endured his worst shooting night as a Warrior, going 5-of-17 from the field.
With Curry, Durant and Thompson all shooting under 50 percent, it was left to Green to operate the efficiency department. He mastered it, going 8-of-10 from the field, including 3-of-5 beyond the arc.
"It was great to get some shots to fall," Green said. "(My shot has) been feeling good the last couple days, so I said if I got a shot that I would come in aggressive. But still focus in on the defensive end. That's always my No. 1 focus, especially against a team like this."
To locate the genesis of the Warriors recent domination of the Clippers, look no further than Green. He suffocates Griffin, who tends to come apart. The Warriors have faced the Clippers nine times since Green was installed as the starting power forward. They've won eight of them.
"If you want to take a positive away from this experience, it's that this isn't the playoffs," Griffin said. "So we have some work to do, obviously. It's a good lesson for us and I think we'll be better off because of it. We have to allow ourselves to learn from it."
It's a theme very similar to that which was expressed the last time the Clippers lost to the Warriors, as well as the time before that, and so on and so on and so on, going back to the days when this was a real rivalry.
The Warriors simply take the W and keep quiet. No gloating. Maybe that will come in the playoffs.
Copyright CSNBY - CSN BAY