As another major storm was pummeling the Northeast Wednesday, more than 1,400 flights were canceled across the United States, including dozens out of the SFO.
Coming a week after superstorm Sandy caused major destruction, flooding and loss of power in New York and New Jersey, the new storm was set to repeat some of the same problems.
Last week, more than 20,000 flights were canceled because of the downgraded Hurricane Sandy, making it the second-most disruptive storm in the past seven years.
The current storm, dubbed "Athena" by The Weather Channel, promised to bring more airport chaos.
A strengthening storm moving up the East Coast with snow, sleet, rain and wind gusts as high as 60 mph, Athena is expected to spread across the still stricken region through Thursday.
As of 2 p.m. Pacific Wednesday, 1,443 flights had been canceled for the day, according to online flight tracker FlightAware. About 400 flights had been canceled for Thursday.
San Francisco International Airport Wednesday said 31 flights had been canceled, according to the airport. Most of the impact came to passengers trying to get back east.
There is one overnight flight out of San Jose that is still listed as on schedule, but any connecting flights out of San Jose or Oakland that end in the New York area appear to be canceled, according to FlightAware.
By afternoon Wednesday on the East Coast, white-out conditions had developed in the New York area, with blowing snow and fog, limiting visibility.
Making matters worse, Sandy damaged some navigational aids at New York's airports. It wasn't clear if those systems, which are critical to safe takeoffs and landings in bad weather, had been completely fixed.
United and American airlines suspended operations in the region, and warned that future cancelations and delays could be a result of the storm.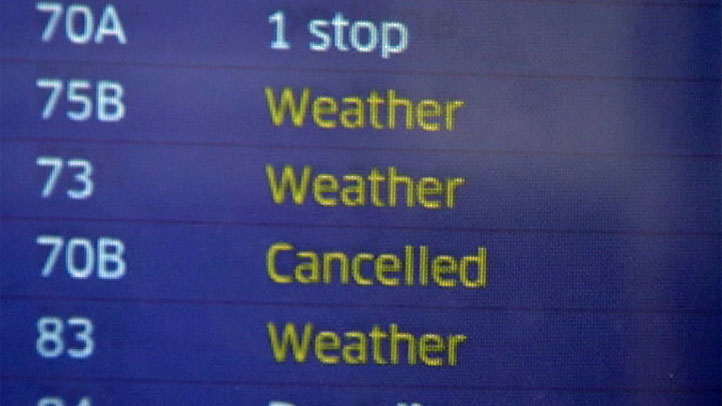 Most other airlines, including Delta and JetBlue, are asking passengers to reschedule
Northeast flights to a later date and are waiving the usual change fees of up to $150.
JetBlue, which is the biggest domestic airline at New York's John F. Kennedy Airport, said its operations had just gotten back to normal Monday after Sandy.
Airlines are quick to cancel flights ahead of major storms to avoid stranding aircraft and crews, and doing so lessens storm-related financial losses.
Many trips were canceled before the first snowflake fell Wednesday.