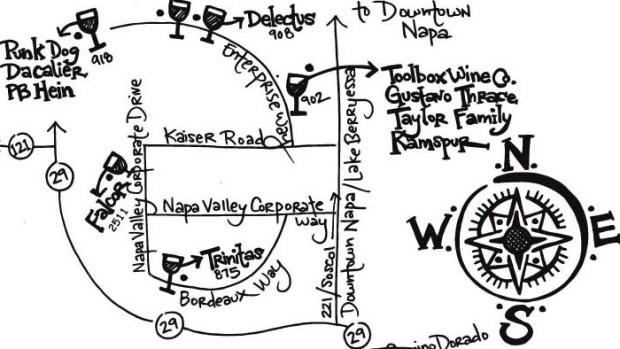 Urban Wine Crawl
Grab a map and make for the Napa Urban Wine Crawl on Saturday, Dec. 10.
CITY STROLLIN': When one thinks of visiting the wineries of Napa Valley, one often thinks of rolling down long roads under big shade trees, or driving for a good bit of time to reach an outlying vineyard that's famous for its syrahs. But, of course, Napa boasts a vibrant urban winery district, too, which slightly upends the idea that every vineyard around the valley can only be enjoyed when visited via a long, tree-y road. And several of the urban wineries are getting together -- not literally, of course, but in spirit -- to throw a Wine Crawl on Saturday, Dec. 10. And when we say "several" we do mean a dozen.
AND THEY ARE... Taylor Family Vineyards, Falcor, and Bourassa, just to give you a peep at a fourth of the participants. A ticket is $60. And "nibbles and holiday cheer" are promised at every stop. Oh yeah. Those are two things we can get behind. We've included a partial look at the hand-drawn map above. First of all, we wanted to give a sense of how close the urban wineries are, and second of all, a hand-drawn map just says holidaytime to us. It's a rare and sweet thing in this print-it-out age. We're already pre-feeling the holiday cheer.