Daughter Tries, Fails to Save Mom From Coming Train
A simple mistake in San Leandro turns deadly Tuesday night.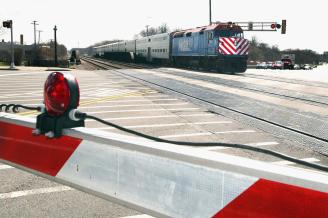 Getty Images
DES PLAINES, IL - MARCH 29: A Metra commuter train passes through a Union Pacific maintained railroad crossing on March 29, 2004 in the Chicago suburb of Des Plaines, Illinois. US Senator Dick Durbin (D-IL) announced $40,000 in federal funding for the city of Des Plaines, Illinois to participate in a federal, state and local pilot program to improve railroad crossing safety. Durbin's office announced that a series of tragic deaths on Chicago area train tracks highlighted the need to improve education and awareness of how and where to cross train tracks. There have been four train track related deaths in the Chicago area in the last month. (Photo by Tim Boyle/Getty Images)
A horrible story is coming to light after a elderly woman lost her life on a San Leandro train track Tuesday night.
The woman was riding in a car with her daughter when a simple mistake turned deadly.
San Leandro police said a 56-year-old woman was driving east on Williams Street with her 77-year-old mother when she made a right turn directly onto the train track, thinking it was a street.
What happened next reads like a movie drama minus the happy ending.
The Toyota Prius got stuck on the tracks just as a Union Pacific freight train headed its way.
Police said the driver tried to to get her mother out of the car, but couldn't do it in time. The train struck the car from behind pushing it a quarter mile down the tracks.
The car finally came to a stop on Castro Street.
The person trapped inside, identified by police as Pei Haung, died instantly.
Her daughter was not hurt.
Police said two other people in cars at the Castro Street crossing witnessed the crash, which investigators said they have determined was accidental.
The Prius was towed away a couple hours later and was nearly unrecognizable following the impact with the freight train.