Apple Tests Larger iPhone Screen
Screens of up to 6 inches would compete well with Samsung.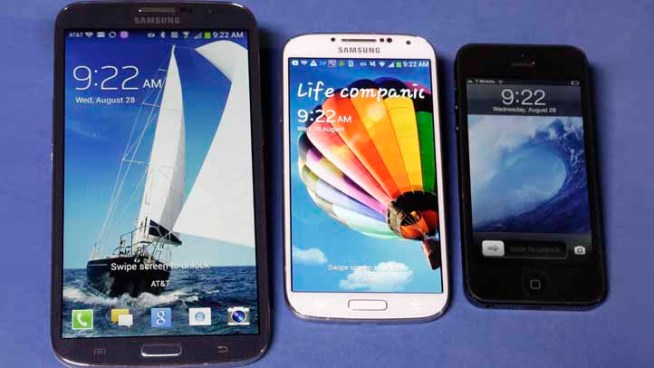 AP
The Samsung Galaxy Mega, left, Samsung Galaxy S4, center, and Apple iPhone 5 are shown in this photo, in New York, Wednesday, Aug. 28, 2013. With a screen measuring 6.3 inches diagonally, the Galaxy Mega is almost as big as a 7-inch tablet computer. The difference: It makes phone calls. (AP Photo/Richard Drew)
Build a better iPhone, and the world will beat a path to your door.
Or is it a bigger iPhone?
Apple is hedging on the latter, according to rumors that say the company is testing bigger iPhone screens that "measure between 4.8 and 6 inches," according to the Wall Street Journal.
The debut of bigger screens may mean that Apple is mindful that competitor Samsung makes bigger screens for its phones and is "changing its smartphone strategy," according to the San Francisco Business Times.
Apple is expected to unveil a new "high-end iPhone next week," about seven days after Samsung rolled out a Galaxy phone with a 5.7-inch screen.