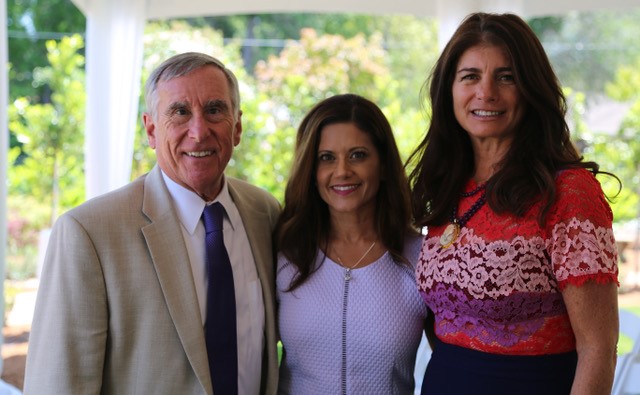 The Summit League's biennial fundraising event, A Day in the Garden with Friends marketplace & speaker luncheon, was held in a magnificent private estate garden on Thursday, May 30th, with more than 350 guests in attendance. This is the Summit League's most successful fundraising endeavor to date. Guest speaker, Elizabeth Gelfand Stearns, co-producer of Still Alice and an award-winning advocate for Alzheimer's research was joined by John Ottoboni, Senior Legal Counsel and Chief Operating Officer for Santa Clara University, to share their personal journeys with Alzheimer's disease from the perspective of care givers and advocates, with Laura Garcia, of media partner, NBC Bay Area, serving as MC.
Ms. Gelfand Stearns, a former Universal Studios executive, extolled the successful advocacy measures The Judy Fund (created in memory of her mother, Judy Gelfand who passed away from Alzheimer's disease), has raised $8.5 million thus far to find a cure for Alzheimer's disease, which is now the 6th leading cause of death, in the United States and affects more than 5.8 million Americans, with the number climbing by the hour. Gelfand Stearns has made it her life's mission to find a cure for Alzheimer's. She co-produced the movie, Still Alice (the 2014 film about a Columbia University professor, Dr. Alice Howland's Alzheimer's diagnosis, played by academy-award winning actress, Julianne Moore) and along with countless volunteers and fellow committed advocates, such as Maria Shriver, continues to lead the charge in finding a cure for Alzheimer's disease.
Proceeds raised from A Day in the Garden with Friends benefits The Hearts and Minds Activity Center, in San Jose (formerly known as The Respite and Research for Alzheimer's Disease Activity Center) which provides safe, nurturing intergenerational services and a rich network of support for those afflicted with dementia and Alzheimer's disease and their caregivers. Alzheimer's and other dementias will cost the nation an estimated $290 billion, by the end of this year and more than 16 million Americans provide an estimated 18.5 billion hours of unpaid care, valued at nearly $234 billion.
Summit League is a non-profit organization, established in 1957, to raising funds in the areas of education, health, welfare and the arts. To date, Summit League has donated over $2 million to enhance the lives of our Silicon Valley community.
For more information, click here.