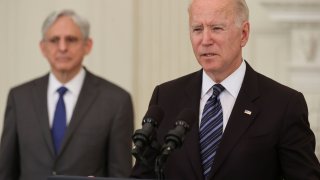 President Joe Biden outlined actions on Wednesday that his administration is taking to curb the recent rise in violent crime and gun violence.
Biden announced tougher enforcement standards for gun dealers who violate federal laws.
The president also said he would make it easier for state and local governments to use pandemic relief funds to combat gun violence.
WASHINGTON — President Joe Biden outlined several actions on Wednesday that his administration is taking to curb the recent rise in violent crime and gun violence, ahead of a summer that experts worry could be especially deadly.
"Crime historically rises during the summer. And as we emerge from this pandemic with the country opening back up again, the traditional summer spike may even be more pronounced than it usually would be," Biden said Wednesday afternoon at the White House.
In order to respond to the rise in gun crimes, Biden and Attorney General Merrick Garland announced tougher enforcement policies for federal gun control laws, as well as new guidelines to help cities and states make better use of federal Covid relief funding to combat gun violence, including by hiring police officers.
Homicides spiked by 30% in 2020 over the previous year, according to data provided by the White House, a surge that shows no signs of abating.
In the first quarter of this year, the nationwide homicide rate was 24% higher than it was in the same period of 2020 and 49% higher than two years ago.
Biden and Garland also held a meeting Wednesday with the mayors of Baltimore and Miami, the police chief of Baton Rouge, La., and several other stakeholders to discuss crime prevention.
Across the country, mayors and police chiefs have struggled to explain what's behind the rise in mass shootings, homicides and other violent crimes.
Experts point to a perfect storm of factors that collided during the pandemic. They include a surge in private gun sales, widespread unemployment and Covid stay-at-home orders that left people trapped inside with little to do.
At the same time, protests against police killings of Black people may have diverted police resources away from traditional policing, and eroded public confidence in law enforcement.
Many of the factors believed to have contributed to the rise in violent crime are difficult to quantify, however.
And given that policing in America tends to be highly localized, Biden's options at the federal level are limited.
Shifting ATF priorities
Biden and Garland announced that starting Wednesday, the Justice Department would adopt a zero-tolerance policy for federally licensed gun dealers who violate gun sales laws.
Instead of issuing warnings, the Bureau of Alcohol, Tobacco, Firearms and Explosives will now seek to revoke dealer licenses on first offenses.
"If you willfully sell a gun to someone who is prohibited from possessing it, if you willfully fail to run a background check, if you willfully falsify a record, if you willfully fail to cooperate with the tracing requests or inspections, my message to you is this: 'We'll find you, and we'll seek your license to sell guns,'" said Biden.
"We will make sure you can't sell death and mayhem on our streets," he added. "It is an outrage. It has to end and we will end it."
Biden also announced the launch of five new federal strike forces led by the ATF to monitor and intercept firearm smuggling along several significant gun trafficking corridors between major cities. 
Changes at ATF could help give new teeth to the enforcement arm of the agency, which has languished under a previous policy that prioritized compliance over punishment.
The latest steps came two months after Biden signed a package of executive actions to confront gun violence in April.
These included directing the Department of Justice to craft a rule addressing the spread of untraceable "ghost guns," and to publish an example of "red flag" legislation for states to follow.
American Rescue Plan funds
In addition to strengthening federal gun law enforcement, Biden also drew a straight line on Wednesday from the pandemic to the surge in gun violence.
Under this designation, that means efforts to combat the surge in gun violence are an allowable use of the $350 billion in state and local pandemic relief funds approved by Congress this spring.
According to updated guidance from the Treasury Department issued Wednesday, American Rescue Plan funds can be used to hire more police officers, pay officers overtime, buy equipment and fund additional "enforcement efforts" to combat the spike in gun violence.
There are a few conditions, however. The first is that the funds must be used to advance "community policing strategies," as defined by the Justice Department. Likewise, the funds cannot be used to staff police forces above their pre-pandemic levels.   
While the funds are narrowly tailored to community policing, the idea that federal relief money is being used to hire more police officers could be a touchy subject among Democrats. 
Ever since the murder of George Floyd in 2020 and the ensuing racial justice protests, some members of the Democratic Party's left flank have backed a movement to reduce the size and scope of police forces, and to replace law enforcement officers with social services counselors and crisis counselors. 
Dubbed the "defund the police" movement by protesters who chanted the phrase, the push to fundamentally alter policing in America has divided some parts of the Democratic Party. 
Biden opposed the "defund the police" movement during his 2020 presidential campaign, and Democratic legislators who are on the ballot in 2022 have largely avoided using the term.
Instead, Biden is proposing greater public investments in social services, mental health counseling and community violence intervention, in addition to law enforcement. 
On Wednesday, Biden highlighted some of these investments alongside the tougher enforcement pieces of his crime prevention plan. 
For example, the Department of Labor recently announced an award of $85.5 million to help formerly incarcerated adults and young people find jobs, housing and support as they reenter society. 
The president also encouraged cities and states to access ARP funds for summer job programs that serve young people and for educational enrichment programs.
Roadblocks in Congress
Several key elements of the Biden administration's strategy are beyond the president's control, however, because they require Congress to enact them.
Biden made the case on Wednesday that gun safety is a bipartisan issue.
"We have an opportunity to come together now as Democrats and Republicans, as fellow Americans to fulfill the first responsibility of government in our democracy, to keep each other safe," Biden said. 
"That means Congress will pass sensible gun violence initiatives. Background checks. Ban on assault weapons. Liability for gun manufacturers. The Violence Against Women Act."
Of course, Biden knows better than most people that gun safety is hardly ever a bipartisan issue. On the contrary, decades of lobbying by the National Rifle Association and other groups have rendered gun control one of the most divisive issues in American civic life.
But while legislation is stalled for now, there is one potential bright spot: The confirmation of Biden's nominee to lead the ATF, David Chipman.
Chipman is a former ATF agent and an expert on gun trafficking. But his record of supporting expanded firearms restrictions has turned his confirmation into a potent political battle.
With the Senate evenly split among Democrats and Republicans, Biden needs every Democrat to vote to confirm Chipman, so that Vice President Kamala Harris can cast the tie-breaking vote.
But as of Wednesday afternoon, two moderate Democrats had not yet committed to supporting Chipman's confirmation: West Virginia Sen. Joe Manchin and Arizona Sen. Krysten Sinema.
Biden's success or failure in persuading Manchin and Sinema to confirm Chipman is being closely watched by some gun control advocates, who see it as a key test of the president's commitment to the broader gun safety agenda.
Copyright CNBC