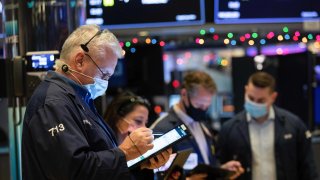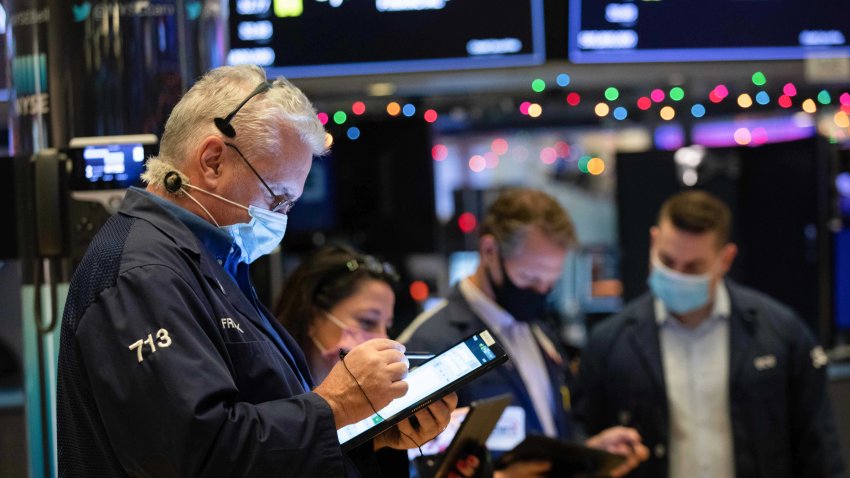 The Dow Jones Industrial Average and S&P 500 fell on Monday as fears of additional Covid-19 restrictions offset the optimism around a vaccine rollout.
The 30-stock Dow closed lower by 184.82 points, or 0.6%, at 29,861.55. At its session high, the Dow was up more than 200 points and hit an all-time high. The S&P 500 declined by 0.4% to 3,647.49, posting its first four-day losing streak since Sept. 21. The Nasdaq Composite outperformed, rising 0.5% to 12,440.04.
New York City Mayor Bill De Blasio warned earlier in the day that the city could experience a "full shutdown" soon. His comments put pressure on the Dow and S&P 500.
"We're seeing the kind of level of infection with the coronavirus we haven't seen since May and we have got to stop that momentum, or else our hospital system will be threatened," de Blasio said.
Other parts of the U.S., as well as other countries, have already implemented stricter social distancing measures. In the U.K., the country's health secretary said London will be placed on England's toughest tier of Covid-19 restrictions.
"These are lockdowns that are hurting global growth," said Quincy Krosby, chief market strategist at Prudential Financial. "The question now is how many more states [and countries] introduce lockdowns."
Shares of companies that would benefit from the economy reopening lagged companies that thrived early on in the pandemic. United Airlines dropped 3.4%. Amazon, meanwhile, popped 1.3%.
De Blasio's warning came as the U.S. began to roll out a coronavirus vaccine designed by Pfizer and BioNTech to hundreds of distribution centers across the country. The first dose of the vaccine was administered in New York City earlier on Monday. The FDA is also slated to publish its assessment on Moderna's vaccine this week.
"We expect effective COVID-19 vaccines to be widely available in 2Q21, supporting a return to more normal levels of economic and social activity," said Mark Haefele, chief investment officer at UBS Global Wealth Management, in a note. "So even with the ... rally in global equities since the start of November, we think that there is further upside to come."
The Covid-19 vaccine is being rolled out amid some of the darkest days of the pandemic in the U.S. More than 300,000 coronavirus-related deaths have been confirmed in the U.S. Over 16 million cases have been reported in the U.S.
Meanwhile, lawmakers in Washington tried once again to push forward on a new coronavirus stimulus package.
A bipartisan group of congressional members plans to release a $908 billion stimulus package. However, some key disagreements remain between both parties, particularly over state and local government aid.
"It is abundantly clear the economy is slowing as local shutdowns continue, but any impact on the equity market has been limited so far. Whether this continues into 1Q is unclear, but our guess is pullbacks will be limited unless something materially changes in the vaccine story," Tavis McCourt, institutional equity strategist at Raymond James, told clients in a note.
Subscribe to CNBC PRO for exclusive insights and analysis, and live business day programming from around the world.
Copyright CNBC