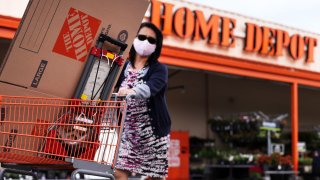 Home Depot on Tuesday said sales grew 11% in the fiscal fourth quarter, as it topped Wall Street's expectations and said it sees sales growth ahead for 2022.
The home improvement retailer said it expects earnings per share growth to be in the low single digits and sales growth to be "slightly positive" in the coming fiscal year.
The company recently named Chief Operating Officer Ted Decker as its new CEO, as of March 1.
Home Depot on Tuesday said sales grew 11% in the fiscal fourth quarter and it projected growth in 2022, as contractors bought lumber, electrical equipment and other supplies for projects.
While demand has eased from the height of the coronavirus pandemic, Home Depot is being challenged by inflation and supply chain bottlenecks. The company topped Wall Street's expectations and said it anticipates earnings per share will grow at a low single-digit pace while sales trends will be "slightly positive" in the coming fiscal year.
But Home Depot shares fell 8.85% on Tuesday to close at $316.17, after the retailer attributed some its latest sales gains to rising prices. Investments in its supply chain also weighed on profits, as gross margin fell from a year ago and disappointed some investors.
Ted Decker, the company's chief operating officer and its next CEO, said on the company's earnings call that home professionals are stripping shelves as soon as items hit them.
"It's not dissimilar to a storm environment," he said.
In an interview with CNBC, Chief Financial Officer Richard McPhail said more people are investing in renovations or remodels as real estate values rise, and tackling significant projects because of the limited supply of available homes. He said manufacturers have struggled to keep up.
"We just aren't at the levels of in-stock that we would like to be," he said. "It is a daily process of seeing product go on the shelf and be sold."
Here's what the home improvement retailer reported compared with what Wall Street was expecting for the quarter ended Jan. 31, based on a survey of analysts by Refinitiv:
Earnings per share: $3.21 vs. $3.18 expected
Revenue: $35.72 billion $34.87 billion expected
Net income for the fiscal fourth quarter grew to $3.35 billion, or $3.21 per share, from $2.86 billion, or $2.65 per share, a year earlier. Analysts surveyed by Refinitiv were expecting earnings per share of $3.18.
Net sales rose to $35.72 billion, topping expectations of $34.87 billion. 
A pandemic winner
Home Depot has been a clear pandemic winner, thanks to Americans taking on do-it-yourself projects and redecorating their homes. It has had other dynamics work in its favor, too. Millennials, the country's largest generation, are moving into their first homes or into bigger houses, even as some baby boomers, the second-largest generation, decide to age in place. That's squeezing supply and driving real estate prices higher.
The country's aging housing stock is causing more repair, maintenance and renovation projects, too — as is the additional wear-and-tear from Americans spending more time at home as they work remotely.
Some investors wonder if home improvement's hot streak will cool as retailers lap a period of government stimulus, raise prices because of inflation, and compete with other spending priorities like dining out and vacations. Mortgage rates are also expected to rise, which may price out potential homebuyers or delay projects once they buy.
Home Depot's forecast, while positive, reflects more conservative expectations for growth in the quarters ahead. Its outlook is roughly in line with analysts, who expect sales to rise 2.5% and earnings per share to increase 4.7% for the full year, according to Refinitiv.
In the fourth quarter, however, Home Depot continued to put up big numbers. Its same-store sales climbed 8.1%, higher than the 5% gain that analysts expected, according to StreetAccount. Its same-store sales in the U.S. increased 7.6%.
Sales growth was sharper among home professionals rather than do-it-yourself customers in the three-month period, Decker said on the earnings call. Big-ticket transactions, which are those over $1,000, were up about 18% compared with the year-ago period, he said.
Home Depot's transactions fell in the quarter to 402.5 million, but the average ticket rose to $85.11. That's compared with 416.8 million visits and an average ticket of $75.69 in the year-ago period. Sales per retail square foot also jumped to $571.79 from $528.01 in the year-ago period.
Decker said the increase in average ticket size was primarily due to inflation, as costs of building materials, copper and other commodities rose. He said Home Depot is coping with fast-changing prices. For instance, he said, in the three-month period framing lumber ranged in price from $585 to more than $1,200 per thousand board feet.
Getting pros to plan ahead
On the company's earnings call, McPhail said Home Depot now aims to reach $200 billion in annual sales. He did not give a year for when the company plans to hit that goal, but said it will do so "as soon as we can in a sustainable and profitable way."
Sales for fiscal 2021 totaled $151.16 billion, an increase of 14% from a year ago. Home Depot's annual sales have grown more than $40 billion over the past two years.
To drive higher sales, executives said Home Depot will focus on making it easier for do-it-yourself shoppers to get personalized recommendations and find items online and in store aisles. The company also wants to become a place where home professionals buy a larger share of planned purchases for jobs instead of using stores for mostly unplanned or last-minute items.
The company has spent $1.2 billion on supply chain investments, including building a network of flatbed distribution centers that can handle the much bigger orders made by pros and deliver them directly to a construction site.
The company will have a new CEO soon. On March 1, Decker will succeed Craig Menear, who will continue to serve as chair of the board.
Home Depot's board approved a 15% increase in its quarterly dividend, bringing it to $1.90 per share.
Copyright CNBC