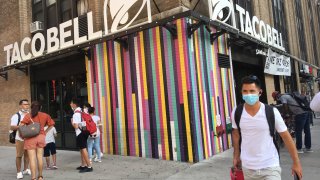 Yum Brands topped Wall Street's estimates for its first-quarter earnings and revenue.
KFC, Taco Bell and Pizza Hut saw strong U.S. sales growth, but their international locations struggled to bring customers back as quickly.
Yum added 435 net new restaurants to its worldwide footprint during the quarter.
Yum Brands on Wednesday reported quarterly earnings that crushed analysts' expectations as U.S. consumers returned to its restaurants.
"Notably, all four of our brands had a weekly per restaurant sales record in the U.S. at least once during the quarter," CEO David Gibbs told analysts.
Shares of the company rose less than 1% in premarket trading.
Here's what the company reported compared with what Wall Street was expecting, based on a survey of analysts by Refinitiv:
Earnings per share: $1.07 adjusted vs. 87 cents expected
Revenue: $1.49 billion vs. $1.45 billion expected
The company reported fiscal first-quarter net income rose to $326 million, or $1.07 per share, from $83 million, or 27 cents per share, a year earlier.
Excluding refranchising gains and other items, Yum earned $1.07 per share, topping the 87 cents per share expected by analysts surveyed by Refinitiv.
Net sales rose 18% to $1.49 billion, beating expectations of $1.45 billion. Global same-store sales rose 9% in the quarter as the company faced comparisons to last year's first quarter, when Covid-19 began hurting demand.
New and returning menu items boosted U.S. sales across its brands. Pizza Hut launched Detroit-style pizza and rebooted its Stuffed Crust Pizza. Taco Bell brought back its Nacho Fries. KFC introduced a new chicken sandwich. Gibbs said that customers are coming back more frequently for the sandwich, and the chain has been struggling to keep up with demand while domestic chicken supply tightens.
Yum said that it saw record digital systemwide sales of more than $5 billion, helped by accelerated off-premise growth. To further drive online sales, the company bought two tech start-ups, Tictuk and Kvantum, during the quarter. Tictuk allows customers to order food while on social media and messaging apps, and Kvantum uses artificial intelligence for consumer insights and marketing performance analytics. Financial terms for both deals were not disclosed.
"Both of these, we think are high return here. They're on the smaller side but high-return acquisitions and, importantly, they create a competitive advantage," Gibbs said.
KFC's same-store sales grew by 8%. On a two-year basis, its same-store sales were flat. The fried chicken chain's international sales are returning at a slower pace, hurt by extended lockdowns in some countries. Its U.S. division, however, reported two-year same-store sales growth of 11%.
Pizza Hut's same-store sales climbed 12% in the quarter. On a two-year basis, its same-store sales declined 1%. About 3% of its locations were temporarily closed during the first quarter, dragging down its same-store sales growth. Pizza Hut's U.S. division reported 8% same-store sales growth on a two-year basis, while the international division saw same-store sales shrink by 7% in the same time.
Taco Bell reported same-store sales growth of 9% compared with the year-ago period and 10% on a two-year basis.
The Habit Burger Grill, which Yum acquired during the first quarter last year, reported same-store sales growth of 13%. On a two-year basis, its same-store sales rose 3%.
Yum added 435 net new restaurants to its worldwide footprint during the quarter. KFC and Taco Bell grew their total unit counts, but Pizza Hut's fell.
Copyright CNBCs - CNBC