The East Bay Regional Park District board on Tuesday approved spending $1 million in the first phase of creating a 300-space parking lot at the trail head to the uber-popular Mission Peak in Fremont.
The vote passed 7-0. The next step is to allocate another $5.5 million to finish the project, which also would include bathrooms, picnic tables and landscaping improvements, hopefully to be completed by 2020, according to Bob Nisbet, assistant general park district manger.
Park staff is recommending a $6.5-million project, would they hope would help alleviate the parking space issue and upgrade the park.
In the past, both residents and the park district have said that building more parking spaces could actually bring in more hikers. "Right now," however, park spokeswoman Carolyn Jones said, "going forward with the parking lot is the best possible option to alleviate the problems."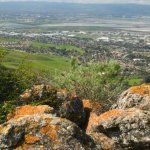 Mission Peak, which overlooks Silicon Valley and was featured in the New York Times in 2014, has an average of 22,000 visitors a month, according to the park district. About 19,000 of those visitors begin their hike from a trail head at the end of Stanford Avenue.
The peak has become so famous lately that the "Mission Peeker" marker pole at the summit is the most geo-tagged landmark in the city of Fremont, as documented by the endless stream of selfies posted on social media.
The parking lot is supposed to help, but even district officials realize the grand total of 343 spaces won't take care of all the cars that drive up to the trail head en route to ascend the 2,500-foot mountain.
On a typical Saturday, 644 cars can be found on Stanford Avenue, the park district found in its report to the board.
That means, that 301 cars would need to find overflow parking, even if the new lot is built on one of the busy weekend days, park staff found. Half could park on the street, the park district said, and 150 would have to find another place to park, such as Ohlone College, or other residential streets.
"The shortage of parking has long been a concern for the district," the park district said in its report.
The new lot would be at the western entrance to the Mission Peak Regional Preserve at the end of Stanford Avenue.
The East Bay Regional Park District has been struggling to grapple with the success of the park over the last five or six years. The district has tried cutting back trail hours, suggesting other hikes in the area, and in 2015, even considered charging a hiker's fee. That suggestion never materialized.