A man who died after exchanging gunfire with police officers on Interstate 80 in Emeryville on Wednesday has been identified as 45-year-old Demilo Trayuon Hodge.
Hodge grew up in the Bay Area and owned and managed the Executive Excursion Limousine Service, offering wine tours in the Napa area.
Police said he was officially listed as a San Leandro resident, but his Facebook profile says he lived in Napa.
Hodge was wanted in connection with the killing of 68-year-old William Freeman on the 800 block of Sunset Court in Fairfield on Dec. 10, 2015, according to police.

When Fairfield officers saw Hodge Wednesday and tried to conduct a traffic stop, he failed to yield. Instead, he led them on a pursuit around 9 a.m., Lt. Rob Lenke said.
In an attempt to flee from police, Hodge headed to westbound I-80. That's where California Highway Patrol officers from Contra Costa County, who were investigating a crash in the eastbound lanes, became involved in the effort to stop the suspect.
Since they were already at the scene, the officers were able to quickly deploy spike strips near University Avenue and stop the black SUV that Hodge was driving, Cmmdr. Dan Seaman said.
"The vehicle collided with a concrete barrier ... lost a front wheel then came to a stop on westbound 80," said CHP officer Matthew Hamer.
I-80 Reopens After Police Standoff, Deadly Shooting
A standoff ensued near the Powell Street exit in Emeryville, with officers negotiating with Hodge via voice commands and by calling his cell phone, said Emeryville police Capt. Oliver Collins. Hodge refused to cooperate with demands to surrender and instead "exited the vehicle and started shooting at officers," Lenke said.
"The end result was officers discharging firearms at the suspect," Collins said.
Footage from the scene shows roughly half a dozen police cars that stopped just short of the car. Officers disembarked, drew their guns and aimed their weapons in the Hodge's direction.
Shortly thereafter, Hodge poked his head and arms out of the driver's window before jumping out of the vehicle. He then shot in the police's direction before dropping to the ground after officers returned a volley of gunfire.
"In this incident, shots were being fired at officers so officers fearing for their lives had to engage," said Lt. Felix Tan with the Richmond Police Department.

A police K-9 ran toward Hodge, who was eventually placed in a vehicle and taken away from the scene. Hodge was transported to a hospital, but he succumbed to his injuries, police said.
RAW: Police Standoff, Shooting Prompts Closure of Interstate 80 in Emeryville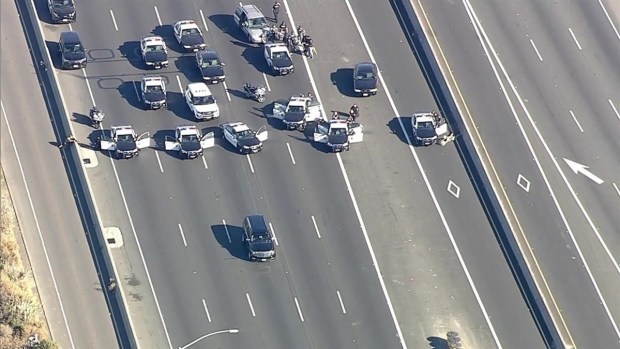 According to Collins, officers from both Fairfield and Richmond shot at Hodge multiple times. Exactly how many police officers opened fire and how many rounds were fired remain unknown.
The officers involved have been "sequestered by their individual agencies," said Collins, adding that the Emeryville Police Department's only involvement in the case is its investigation into the "criminal aspect" of the officer-involved shooting.
Hodge had a firearm, which he discharged near or at the officers, said Collins, who couldn't confirm who fired first.
An investigation is ongoing, but it could take weeks or months to go through evidence, transcripts and videos, Collins said. After that, the case will be turned over to the Alameda County District Attorney's Office.
All lanes of I-80 were shut down while investigators canvassed the scene and combed the area for evidence. The eastbound lanes were reopened around 11:10 a.m., but no such luck for commuters stuck on the westbound lanes. They weren't allowed to move until 5 p.m.
"We're sincerely sorry for the major traffic delays" that were felt not only around the East Bay, but also in San Francisco, said Emeryville police Chief Jennifer Tejada.
Suspect Dead After Standoff, Shooting on I-80 in Emeryville
A commuter, identified as Debbie Bhurtyao, was stopped very close to where she works.
"Never been in one of these situations," she said, "especially being 15 seconds away from work and now I will be two hours late."
Bhurtyao was among the first people to get stuck behind the police blockade and then interviewed by CHP officers.
"I was shocked. I thought he was dead," said Bhurtyao, who described hearing about 20 to 30 shots being fired. "Unfortunately, I think that guy was on a suicide mission."
NBC Bay Area's Brendan Weber and Anser Hassan contributed to this report.
Swat team members on scene as they surround driver of SUV on I-80. WB freeway closed pic.twitter.com/ZcIYJqJWLh

— Jodi Hernandez (@JodiHernandezTV) September 27, 2017
#BREAKING Police stand off closes WB I-80. Officers have guns drawn in driver of SUV pic.twitter.com/WhTxr0Kvjw

— Jodi Hernandez (@JodiHernandezTV) September 27, 2017
Traffic at standstill on WB-I80 after police pursuit ends in crash. Reportedly guns drawn. pic.twitter.com/u8WIE2JJMl

— Jodi Hernandez (@JodiHernandezTV) September 27, 2017