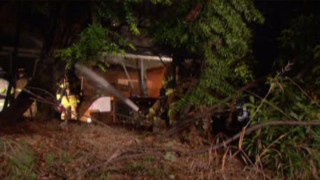 A roller derby organization is asking the public for donations to help five people displaced by a two-alarm fire at their Monte Sereno home that caused more than $1 million in estimated damage on Tuesday.
The Silicon Valley Roller Girls, a league in San Jose, will be collecting donations for the five residents of a home that caught on fire around 2:30 a.m. Tuesday in the 18000 block of Los Gatos Saratoga Road.
The residents were able to escape from the home before fire crews arrived and were not injured, according to Santa Clara County fire officials. They all received help from the American Red Cross, fire officials said.
The fire caused an estimated $904,000 in damage to the building, including portions of the roof that fell in, and $100,000 in damage to contents inside the home, fire officials said Wednesday. The cause of the fire is under investigation.
The Silicon Valley Roller Girls decided to start the donation effort after they heard one of their former members, Jessica Iacomini, was one of the five residents affected by Tuesday's fire, according to Dana Trauger, announcer for the league.
"Once you're a Silicon Valley Roller Girl, you're one for life," Trauger said.
Donations for the residents will be accepted during the team's double-header versus the Foothill Foxy Flyers Roller Derby League on Saturday, Trauger said. The games will be held at the San Jose Convention Center's South Hall at 435 S. Market St. in San Jose, where doors will open at 5:30 p.m. and the first game begins at 6 p.m.
The league will be accepting household items such as pots or pans, non-perishable food, toiletries, clothing and gift cards for the residents, according to Trauger. Anyone who brings a donation to South Hall on Saturday will receive a 50 percent discount on admission to the event. General admission is $18 and $8 for children between the ages of 6 and 12. Admission is free for children ages 5 and under.