Simple chores, like taking out the trash and folding laundry, send stabbing pains rushing through Silvia Young's frail body.
"It feels like my internal organs are wrapped in barbed wire," Young said, struggling to sit upright in her dining room chair. "Every move hurts. Sometimes, I can't even breathe."
The 46-year-old Danville woman consulted more than 25 doctors over the last three decades to treat endometriosis, the puzzling condition causing her debilitating pain. There is no known cure or cause for the illness, but experts are acutely aware of the damage it wreaks on a woman's reproductive system.
In severe cases like Young's, tissue similar to endometrial lining grows outside the uterus and bonds like glue to other organs, fusing them together. Patients often find themselves plagued by a lifetime of pain, compounded with infertility issues, repeated invasive surgeries and medical bills totaling tens of thousands of dollars.
The condition, for which there will be an awareness march at San Francisco's City Hall on March 25, has also been linked to heart disease and some forms of cancer.
An estimated 5 million women suffer annually from endometriosis in the United States, yet four medical experts and nine patients told NBC Bay Area it's commonly dismissed as a non-serious ailment and frequently misdiagnosed. Some women are turned away and labeled "drug seekers," while others languish in silence. The average patient waits almost 10 years for a proper diagnosis — a decade in which endometrial lesions are left to breed and organs have time to bond like glue.
The San Francisco march is meant to empower women to come forward with their stories. For too long, advocates say, women have been told to hush up about ailments affecting reproductive health, a trend of mass silencing that results in inferior care.
"Raising awareness is really all we can do at this point," said Young, who co-founded the online hub Unite Endo and runs an online-only campaign, #31FemTruths, for women who can't physically participate in the march due to pain. "There's a lot of shame with this condition, so being vocal about what we go through and coming out of the shadows could help make change."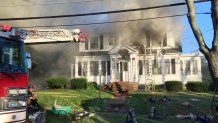 Advocates are also hoping the visual display will produce more funding for research. The National Institute of Health estimates $11 million in funding for studying the condition in 2017, a pittance compared to conditions that affect a similar number of people, such as diabetes.
"Women are literally killing themselves because of this," said Dr. Peter Gregersen, a New York-based researcher who has been studying genes that could be linked to endometriosis. "But the funding is pathetic. There are endless stories of the travails that these women have, and most gynecologists don't know a lot about it, or they have an attitude about it that is not commensurate with its degree of severity."
Because the disease can only be diagnosed through exploratory surgery, called laparoscopy, many doctors will wait until a patient presents with infertility to investigate, Gregerson said. By then, any lesions could have spread to other organs.
But that's not the only roadblock stymying diagnoses. Long-established gender biases in healthcare may be partly to blame, too. Studies have shown that women are treated less seriously compared to male counterparts when presenting with pain in emergency rooms.
"Unfortunately, I think a lot of doctors don't really believe women are having this much pain," said Dr. Andrew Cook, a Los Gatos reproductive endocrinologist who specializes in pelvic pain disorders. "Lack of proper training, lack of believing the patient. There are a lot of factors in play."
Some women are also taught that immensely painful periods — one of the telltale symptoms of the condition — are to be expected.
"The culture says to them, 'well, pain isn't abnormal," Gregerson said. '"Maybe pain is something you should suck up.' So, the condition isn't treated unless it's severe."
Peggy Santa Maria, a 63-year-old Los Gatos woman, worked for decades to have her condition taken seriously by insurance providers and doctors. Along with her husband, she now runs the "Endo Inn" out of her home, a safe space where women can stay free of charge before and after surgery.
"Just to be believed can be a huge relief," Santa Maria, who is also the President of the Endometriosis Association of San Francisco, said. "To cry with someone, to hold them and become better through the tears."
More than 100 women have walked through her doors in search of someone with whom they can commiserate.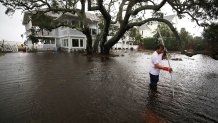 For low-income women living with the condition, additional hurdles abound after diagnosis. Visits to an endometriosis specialist are often deemed "out-of-network," leaving many women scrambling to find care.
Denita Espino, a San Jose woman who relies on Medicaid for healthcare coverage, knows the burden all too well.
For years, her gynecologist prescribed birth control pills and doled out drugs for pain management, but nothing alleviated her crippling cramps. She was then presented with a "cure-all" hysterectomy, a surgery in which the uterus is removed.
Desperate to live pain-free, Espino went through with the surgery. It didn't help. Instead, doctors stopped taking her pain seriously, she said.
She was dismissed as a "drug seeker," a label given to many endometriosis sufferers who demand pain management. She can't afford to see experts in thoracic endometriosis, a rare form of the disease that could be causing the sharp pains in her chest that she equates to "getting stabbed over and over again by Freddie Krueger."
"I feel bullied by the doctors," she said, wiping away tears. "Like it was just a way to get me out. It has ruined my life, and I know it's not going to be over until I die."
Sometimes, the pain is so severe she passes out.
"It's just not fair," Espino said. "If you have money, if you're privileged, this is more manageable. But if you can't afford the treatments, you're forgotten about and pushed to the side. It's like your body doesn't matter. It's like you don't matter."
Espino now counsels women about the added struggles that befall low-income women with the condition. Though she wants to participate in the march, she can't go due to constant pain and is counting on allies to show up in her stead.
It's not uncommon for women suffering from endometriosis to find themselves haunted by unsuccessful surgeries, according to Dr. Tamer Seckin, a gynecologic surgeon who co-founded the Endometriosis Foundation of America.
In his practice, he has seen teen girls given unnecessary hysterectomies by doctors who are not properly trained in other methods, such as excision therapy, which is the procedure he and Cook recommend. It involves meticulously cutting lesions away and separating organs that have fused together, but it's an expensive operation.
"A hysterectomy is not going to help if the endometriosis has grown outside the uterus…" Seskin said. "I have had girls at the age of 17 given hysterectomies. It's indiscriminately prescribed as treatment. It's hard not to shed tears when you see these women."
After the march later this month, Young, Espino and Santa Maria hope to reach other women who may be suffering in silence. Meanwhile, Cook, Seckin and Gregerson are working within the medical community to increase awareness about the need for early intervention and proper treatment.
All agree: when women's pain is taken more seriously, outcomes will improve. Better funding and treatment will follow, they hope.
"I just want everyone to know about it, so we can do something," Espino said. "We're not depressed. We're not sad and we're not wrong. We're human. And all we're asking for help."