In front of what's expected to be a packed chamber Tuesday night, the Oakland City Council will decide the fate of a proposed ballot measure that aims to protect thousands of tenants in the city from being evicted for no cause.
The ballot measure, proposed by council members Dan Kalb and Noel Gallo, would extend eviction protections to tenants who live in owner-occupied duplexes and triplexes.
'I Realize Not Everyone Is Going to Like It …'
"Some people are being evicted or pushed out because of the lack of protections, and this is a way to rectify that," Kalb said at a committee meeting last week. "I realize that not everybody is going to like it, but I believe on balance it's better to do this than not to do this, and I hope to let the voters decide that."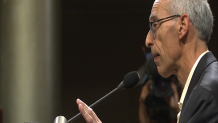 Under current law, landlords can only evict Oakland tenants for specific reasons, such as failure to pay rent or violating sections of a lease. Tenants in duplexes and triplexes, however, are exempt from such protections if their landlord lives in the same building, according to Oakland's current Just Cause ordinance. Voters approved the exemption on Nov. 5, 2002, to give landlords – who live in smaller buildings more control over which tenants live alongside them. Supporters of the exemption also argue the law is necessary to protect landlords from lengthy legal disputes when attempting to evict tenants for legitimate reasons.

Critics Argue Exemption is being Exploited
Critics, however, say the exemption is being exploited by some landlords – mostly new investors – who are moving in, or at least claiming to, so they can evict the building's tenants in order to usher in new tenants willing to pay more expensive rent.
If the City Council approves the measure on Tuesday, voters will get the chance to weigh in on the issue in the November election. If last week's committee meetings were any indication, Tuesday is sure to draw a large and vocal crowd. Dozens of tenants, landlords, and advocates – on both sides – showed up to speak, sometimes fighting to be heard over a chorus of boos and jeers from the audience.
"This is my living space," said Jessie Tegar, a landlord who spoke against the measure. "I share space with these people and I should have more discretion. It's onerous."
Many longtime landlords who spoke said they're being unfairly lumped together with new investors or corporate landlords. Some said they're barely making ends meet.
"I live in and own a duplex near Oakland High School," said Dr. Norma Francisco. "My renters have lived above me with their two children for 10 years. I refused to raise the rent for six years. My 1925 building looks beautiful on the outside, but the plumbing is corroded, the electricity is outdated, there's no soundproofing between units, the yard is full of well-manicured weeds, the kitchen is dysfunctional and desperate, and the garage leaks."
Supporters of the measure say tenants in duplexes and triplexes should have the same protections from no-cause evictions afforded to renters living in larger buildings.
"What we see happening with our [elderly] clients is young investors, young upwardly mobile folks, coming in and displacing long-term seniors who are on fixed incomes," said Rachel Gottfried-Clancy with Legal Assistance for Seniors, a nonprofit group advocating for the rights of the elderly.
"There are desperate impacts on seniors when they become homeless," Gottfried-Clancy said. "A senior who is 55-years-old has the same health disparities that a 75-year-old has when they become homeless."
'If I think about it too much, it's just awful'
Josephine Hardy, who's lived in the same West Oakland triplex for 47 years, said she's been paralyzed by fear since a new owner bought her building last year and served her with an eviction notice. For decades, her family has occupied all three units of the triplex. The landlord used an owner move-in eviction to evict Hardy's son, Khalif, from one of the units. Because the owner became an official tenant of the building, Oakland law allowed him to serve eviction notices to the rest of the family, for no reason, just days later.
"The hardest part has been actually thinking about being separated from my family," Hardy said. "If I think about it too much, it's just awful."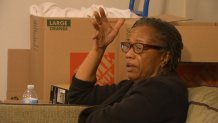 Her granddaughter, Raynett, who lives with her mom in the building's third unit, now faces the possibility she'll have to move out of her native Oakland.
"We don't have anywhere to go at this point," she said. "The market rate is so high, all the places that we've been looking into are kind-of above our means."
Raynett said she thinks the only reason her family is being evicted is so her new landlord can raise the rent. The landlord declined requests for comment.
Although landlords are not allowed to raise their rent prices until they've lived in the building for at least two years, the NBC Bay Area Investigative Unit uncovered a serious lack of oversight in Oakland. The city's official resolution proposing the ballot measure cites the investigation as evidence of a need for reform.
Oakland's Department of Housing and Community Development, admittedly, does not ever check if landlords actually move into a unit after kicking out tenants through an owner move-in eviction.
"Unfortunately, we have not had the ability to go out and verify that and enforce it," said department Michele Byrd, who heads the department, during a February interview with the Investigative Unit.

Additionally, the department cannot provide statistics to reflect how often landlords are evicting tenants through owner move-in evictions.
It's also impossible to tell how many tenants have been evicted without cause from Oakland duplexes and triplexes, because, according to the Rent Adjustment Program, landlords are not required to file no cause eviction notices with the city.
Tenant rights advocates say the lack of oversight has created a system that is easy to exploit.
"[Investors] buy the property, and then they pretend to move in, and then they get everybody out," said Leah Simon-Weisberg, Managing Attorney of the Tenant Rights Program at Centro Legal de la Raza in Oakland.
Simon-Weisberg said landlords shouldn't be exempted from rules designed to protect tenants simply because they own a smaller building – especially in the face of the Bay Area's housing crisis. Her organization has been pushing to remove the "just cause" exemption for duplexes and triplexes since last year.
"People kind of want to pretend that because it's a triplex or a duplex, that somehow it's no longer a business," she said. "It is a business and they need to act like good business people."

Not Enough Housing Supply
Property owners, however, argue landlords are being unfairly blamed for Oakland's housing crisis.
"We don't have enough housing supply," said Wayne Roland, President of the East Bay Rental Housing Association. "We don't have enough housing supply because of all the regulations that the people who are trying to build here have to go through."
His organization is lobbying against the ballot measure, which he said is a solution to a problem that doesn't exist.
"How do they even know that [evictions] are exploding if they're not even tracking it?" Roland said. "There's no reason to make laws to solve problems that someone said exist, but in fact, they do not."
Tuesday's council meeting is scheduled for 5 p.m. inside Oakland City Hall.
______________________________________
Need to contact our Investigative Unit?
• You can remain anonymous
• 1-888-996-TIPS
______________________________________
Watch the entire series in this NBC Bay Area investigation:
• Part 1: SF Landlords May Have Wrongfully Evicted Hundreds of Tenants
• Part 2: SF Fails to Prosecute Landlords for Certain Wrongful Evictions
• Part 3: San Francisco Considers New Eviction Laws Following I-Unit Series
• Part 4: NBC Bay Area Investigation Leads to Government Hearing
• Part 5: SF Eviction Crackdown Passes After Investigative Unit Series
• Part 6: SF Mayor To Sign Law After NBC Bay Area Investigation
• Part 7: SF Mayor Inks New Law to Combat Wrongful Evictions
• Part 8: Lake of Oversight Puts Oakland Tenants at Risk of Eviction
• Part 9: Oakland Voters May Get Say on When Landlords Can Evict Renters
• Part 10: Expansion of Eviction Protections Heads to Ballot in Oakland
• Part 11: Oakland Couple Uses Hidden Camera to Fight Eviction
• Part 12: Landlords Frequently Ignore Oakland Eviction Laws
• Part 13: Oakland Housing Director Defends Department
• Part 14: Oakland Housing Chief "Fired," Says Source