Paul Pelosi, the husband of House Speaker Nancy Pelosi, was violently assaulted inside his home Friday morning in San Francisco, according to a Pelosi spokesman and local police.
An assailant broke into the home and asked "Where's Nancy? Where's Nancy?" according to an NBC News source.
Officers arrived at the home to perform a welfare check and found the suspect and Pelosi both having one hand on a single hammer. Police then saw the suspect attack Pelosi, 82, with the hammer, San Francisco police Chief Bill Scott said during a news conference Friday. Scott added Pelosi was struck at least once in the attack.
The officers disarmed the suspect, Scott said.
"This was not a random attack. This was intentional. And it's wrong," Scott said. "Our elected officials are here to do the business of their cities, their counties, and their states, and this nation. Their families don't sign up for this -- to be harmed. And it's wrong."
Pelosi was taken to Zuckerberg San Francisco General Hospital, where he is recovering from surgery on his head, a source at the hospital with firsthand knowledge says. Previous reports citing a hospital source said he was undergoing brain surgery.
"Mr. Pelosi was admitted to Zuckerberg San Francisco General Hospital where he underwent successful surgery to repair a skull fracture and serious injuries to his right arm and hands," Drew Hammill, spokesman for Speaker Pelosi, said in a statement. "His doctors expect a full recovery."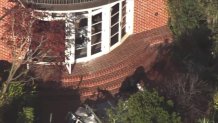 Secret Service agents and Capitol Police were staged at the hospital.
The suspect was identified as 42-year-old David Depape, and is being charged with attempted homicide, assault with a deadly weapon, elder abuse, burglary and several other felonies, Scott said. Depape was taken to the hospital in police custody.
Speaker Nancy Pelosi was not at the San Francisco home at the time of the invasion and assault. She was in Washington, D.C. under her protective detail, according to her office. The speaker arrived in San Francisco just before 3:30 p.m.
According to a family member traveling with Nancy Pelosi, Depape was trying to tie up Paul Pelosi "until Nancy got home," and when officers arrived at the scene, he said "we are waiting for Nancy."
When Depape wasn't looking, Pelosi managed to dial 911, the family member said. The family is hoping there is a recording of the conversation to provide more information.
"Early this morning, an assailant broke into the Pelosi residence in San Francisco and violently assaulted Mr. Pelosi. The assailant is in custody and the motivation for the attack is under investigation," read a statement from Pelosi's office.
"Mr. Pelosi was taken to the hospital, where he is receiving excellent medical care and is expected to make a full recovery. The Speaker was not in San Francisco at the time," the statement read.
"The Speaker and her family are grateful to the first responders and medical professionals involved, and request privacy at this time."
San Francisco police said it responded to the scene in the 2600 block of Broadway for a home break-in. The Capitol Police, the FBI and San Francisco police are conducting a joint investigation into the home invasion assault.
Pelosi's home was vandalized last January, just a few days before the Jan. 6 attack on the Capitol, as was the home of then-Senate Majority Leader Mitch McConnell, R-Ky. Pelosi's garage door was defaced with phrases including "$2K," "Cancel rent!" and "We want everything!" This came several days after Congress failed to approve a measure to increase coronavirus stimulus checks to $2,000.
Meanwhile, politicians from both sides of the aisle took to social media to condemn the attack.