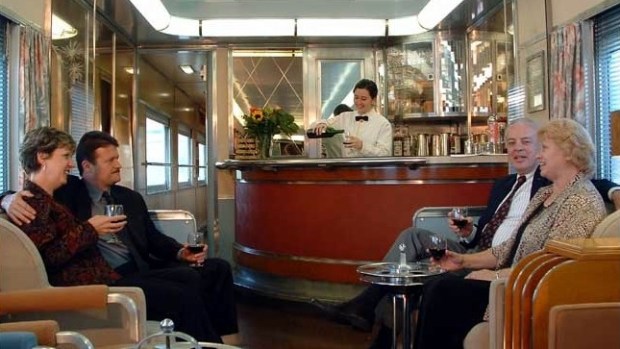 Ticket to Ride
"A Ticket to Ride," which looks at a century and a half of passenger train travel, opens at the California State Railroad Museum in Sacramento on Thursday, May 31.
CASUAL AND FANCY: People who love trains nowadays pretty much like them any way they come. If you're a train buff you're on-board with what we're saying here, right? You can be eating a bag of chips smooshed up next to a stranger at the snack bar counter and you're happy. Or you can be sipping a cocktail while watching vineyards or picturesque canyons fly by and, yep, you're happy. The train is the common denominator here, and as long as you are on it life is swell. But, if we're going to be totally honest? Many train aficionados long for a day when people sat in plush Art Deco chairs and used real linen napkins and enjoyed the perks of normally found in non-moving places, such as hotels. A few trains still indulge in those practices today, but for the most part? We need to look to the past to do our envious sighing. And inspiring us to do just that is the California State Railroad Museum, which will debut "Ticket to Ride" on Thursday, May 31. What's that? It's a look back at 150 years of passenger service.
SWANK ON THE RAILS: All sorts of artifacts from the 1920s and 1930s will be on display, including a barbershop chair. Come on, getting the bangs trimmed while speeding along some lonely plain? That's downright romantic. There will be tickets and furniture and other touchstones of the era. The show is set to run through March of next year, and should it get you wanting to take your own train trip, you can; excursion outings are available through the museum, at least in the warmer months. For info on all of the above, take a peek here.