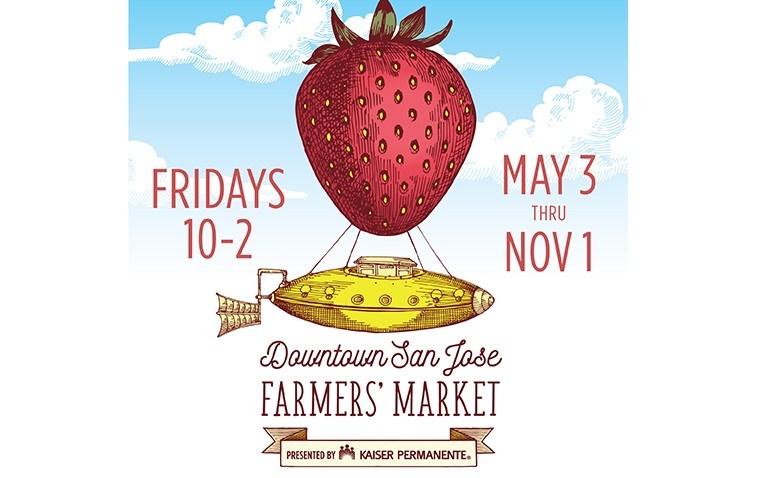 The Downtown San Jose Farmer's Market is back for another season!
The market includes fresh produce from California growers, fresh cut flowers, special gourmet foods and artisan booths full of clothing and crafts. The energy of the market is lifted by live music, special food booths, San Pedro Square restaurants lining the street and thousands of downtown employees and residents who make the market part of their weekly routine.
The Pacific Coast Farmers' Market Association (PCFMA) recruits 25-40 farmers and the San Jose Downtown Association oversees the street closures and other vendors. The partnership dates back to spring 1993, when the market was originally located at First and San Fernando streets. This is the 27th season.
The market continues each week into November. On average, 2,500 residents, office workers and visitors head to the Farmers' Market. Customers are encouraged to bring their own reusable and washed bags.
In the spirit of thriving, many market shoppers walk to the market. Those who drive can get parking validation for the Market-San Pedro Garage at the SJDA information table. Valley Transportation Authority (VTA) recommends riding light rail to the Santa Clara Street or St. James Street stations.
WHEN: Every Friday from 10am - 2pm, May 3 - November 1 (no market July 5)
WHERE: San Pedro Street in San Jose, between St. John and Santa Clara Streets