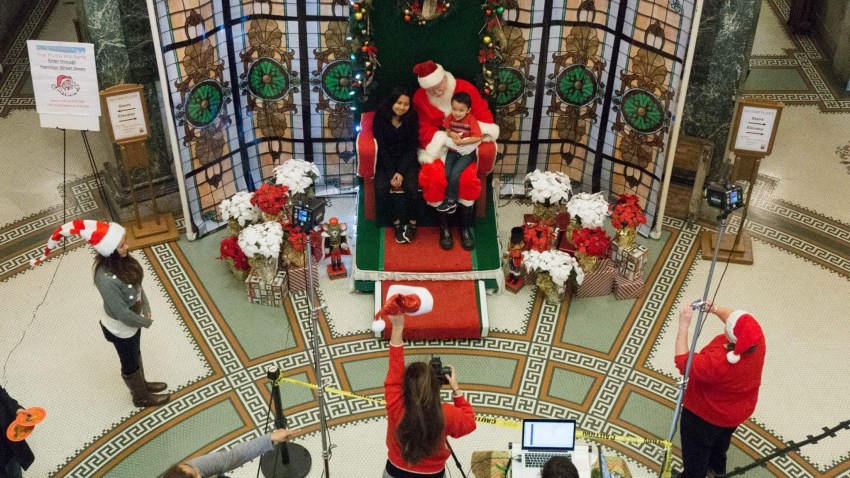 Get in the holiday spirit and join the festivities as Redwood City's Downtown Business Group throws Hometown Holidays, a party to celebrate the holiday season, rain or shine! Guests can enjoy a parade, live entertainment, carnival rides, snow, Santa Claus photos and more.
The celebration features a traditional children's family parade, an incredible kids snow play area, photos with Santa Claus in the History Museum, carnival rides, food and craft vendors, live entertainment and the annual city hall tree lighting on the corner of Hamilton and Broadway.
Caltrain's Holiday Train toy collection train, arrives at Redwood City's Sequoia Station train platform at approximately 6:10 p.m. Glowing with thousands of lights and holiday decorations, the Holiday Train makes 20-minute station stops, where Santa, Mrs. Claus, Frosty and the gang get off the train to greet children and spread holiday cheer. Bring the family to join in the fun, along with a new, unwrapped toy to donate to the Holiday Train Toy Drive.
WHEN: Saturday, December 1st, 2018, 10:00 a.m. - 8:00 p.m.
Parade: 4:30 p.m.
Tree Lighting: 5:45 p.m.
Holiday Train Arrival: 6:10 p.m.
Live Holiday Music: 6:00 - 8:00 p.m.
WHERE: Courthouse Square, Downtown Redwood City