A Bay Area man was one of the 22,000 people present at the Route 91 Harvest Festival in Las Vegas when a gunman shot and killed at least 59 and injured 527 from the 32nd floor of the Mandalay Bay hotel.
It was the deadliest mass shooting in modern U.S. history, and Ricky Rosas, a mechanic and avid cyclist from Hayward, was there to capture a part of it on his cell phone. Rosas sent NBC Bay Area two videos from the scene. In one of them, you can hear a rapid succession of gunfire being sprayed on the crowd, which runs frantically in every direction to escape.
People in the crowd can be seeing kneeling, running and screaming "Oh my god," as bodies lay scattered on the concert grounds, chaos everywhere.
"No, someone got shot right there!" someone can be heard saying, as several people kneel next to the person.

"Shots fired at the concert!" "Where is it coming from? Where is it coming from?" "This ain't cool, at a f___ concert!" Rosas can be heard saying in the video.
Seconds later, another round of shots can be heard. Someone yells out "My daughter!" And then "Where the f____ is that coming from? Where is it coming from?"
Hayward Man Witnesses Las Vegas Shooting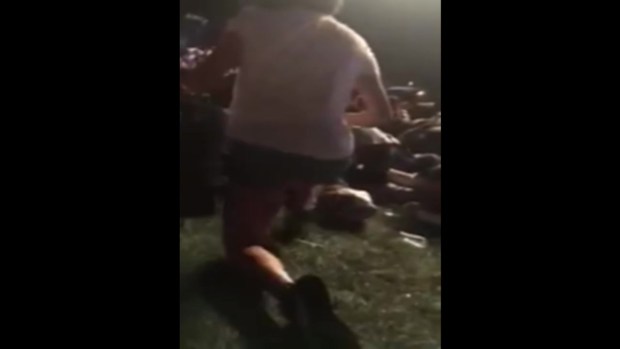 In the next video, Rosas can be seen walking through hotel lobby saying that he is fine. "People are coolin' out," he says to the camera. Blood stains are visible near the hotel elevator as people try to make their way to their rooms. Some people can be seen taking the stairs to get back to their rooms and talking on their phones. "People are in a frantic, don't know where to go," Rosas can be heard saying.

"I know I'm all fun and games, but this ain't a f___ game. When you hear shots from a high output rifle, coming from out of nowhere, in the middle of a concert, and people are taking cover," Rosas says in the video. "

Rosas was in Vegas to hear Jason Aldean, who was on stage when the gunfire broke out, and kept on performing for a bit until he realized what the noise really was.

Published at 2:46 PM PDT on Oct 3, 2017 | Updated at 2:56 PM PDT on Oct 3, 2017