A bank robbery suspect was still on the loose late Thursday night after leading CHP officers and sheriff's deputies on a massive, hours-long manhunt through the Santa Cruz Mountains that shut down a major highway, locked down schools and had area residents sheltering in place.
The Santa Clara County Sheriff's Office, with increased patrols in the area overnight, responded to a 911 call about 11:30 p.m. from residents at Aldercroft Heights and Locust Drive, just south of Lexington Reservoir, who may have seen the suspect, sheriff's officials said.
After deputies rushed to the area, a woman told the sheriff's office she spotted a man inside her home who allegedly stole clothes and a van. But officials said later he was back on foot. They described his change of clothing as a green beanie, a teal San Jose Sharks shirt, black and white shoes and blue gloves.
Highway 17 was closed for more than nine hours earlier Thursday as a slew of Bay Area law enforcement agencies searched for the robbery suspect in the rural community of Redwood Estates in the Santa Cruz Mountains.
California Highway Patrol officials said the suspect fled north on the normally busy highway after allegedly robbing a Bank of America in the Scotts Valley area, triggering a massive manhunt.
The suspect reportedly hit several cars while evading police, but his car failed him at Redwood Estates, prompting him to ditch it and run on foot into the nearby densely wooded area.
A sheriff's deputy fired shots at the suspect during the course of the incident, sheriff's Sgt. Rich Glennon said. It is unclear whether the suspect was hit, and no deputies have been injured.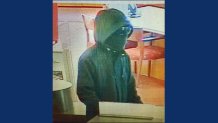 The search started sometime before 10:50 a.m., which is when sheriff's officials locked down Lexington Elementary School, located off Highway 17 north of Redwood Estates.
The school's principal was told to keep students inside, and parents were not allowed to pick up their children until further notice, according to Los Gatos Union School District Superintendent Diana Abbati.
The lockdown, which was called off around 2 p.m., scared parents.
"I was shaking," said Iris Phillip.
Her second-grader son Max, however, deemed the experience "pretty exciting."
Sheriff's officials also advised locals to avoid the area or shelter in place.
Highway 17 was closed down as part of the investigation, causing a traffic nightmare for thousands of commuters who were forced to spend hours on the road. The highway's southbound lanes reopened around 6:30 p.m., and the northbound lanes reopened about 8:30 p.m.
Earlier Thursday, the suspect was described as wearing a black jacket and dark jeans, sheriff's officials said. He was wearing a black mask at the time of the robbery.