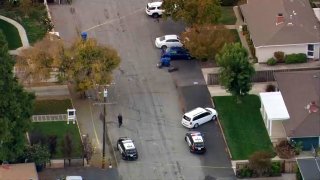 A man died Tuesday morning following a shooting in Campbell, police said. A suspect has been taken into custody.
Officers at about 10:45 a.m. responded to reports of a shooting along the 300 block of Sunnyoaks Avenue, police said.
The victim was found on Sunnyoaks Avenue and transported to Valley Medical Center where he was later pronounced dead, according to authorities.
A witness provided information regarding a possible suspect and vehicle, which was later located on Juanitas Way where the suspect was arrested.
A shelter-in-place was ordered for residents of the area out of an abundance of caution but it has since been lifted. Officials remain on the scene to investigate the shooting.
No other details have been released.
Anyone with information about the incident are encouraged to call the Campbell Police Department Investigations Unit at 408-871-5190. Those wishing to remain anonymous may contact 408-871-5191.
This is a developing story. Details may change as more information becomes available. Stay tuned for updates.