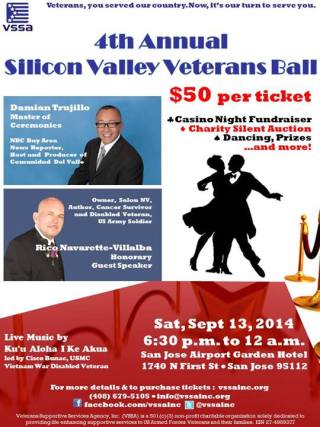 You are invited to the 4th Annual Silicon Valley Veterans Ball! This year will be even more exciting, with the return of our Charity Silent Auction, Door Prizes, special guests including NBC's Damian Trujillo as the night's MC… and new this year a Casino Night Fundraiser!
Celebrate and support VSSA. The outcomes of the programs improve the lives of veterans, who earned and deserve assistance and support!
You have the option to purchase a table, sponsor program space, and purchase tickets.
Tickets can be purchased at VSSA, 14630 Noble Ave, San Jose 95132, Monday through Friday, 8 a.m. to 5 p.m or online.
Please note: If you are purchasing your tickets online, you will not receive paper tickets. You will receive a receipt for your tickets upon payment. Your name and meal choice will be placed on the guest list, which will be used at event check-in.
If you are purchasing your tickets at Noble House, your paper ticket is required for admission.
San Jose Airport Garden Hotel is offering discounted room rates of $79/ night (plus tax) for the evening of the Ball. To make reservations, please reserve online here or contact them directly at (408) 793-3300. Please remember to mention you are attending VSSA's 4th Annual Silicon Valley Veterans Ball.
When: Saturday, September 13, 2014
Time: 6:30 p.m. - 12:00 a.m.
Where: San Jose Airport Garden Hotel, 1740 N. First St., San Jose, CA 95112
Cost: $50 - 500