Bicyclist Killed on Bay Area Mountain Road Identified as Ex-Amazon CFO Joy Covey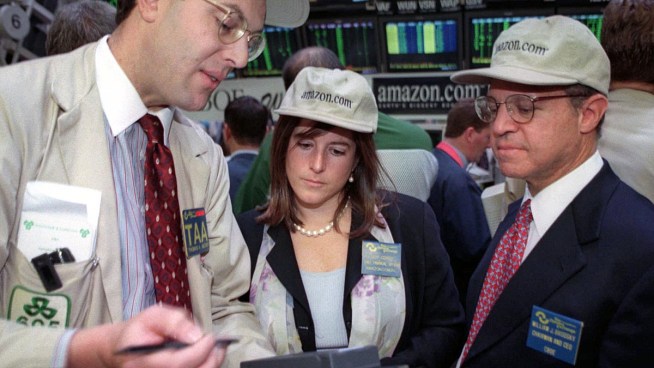 AP
Joy Covey, Amazon's chief financial officer, is shown in this file photo getting pointers on trading in Chicago in 1997. She was killed while bicycling Wednesday in the Bay Area when a car turned directly in front of her, causing her to crash into it.
A woman killed while riding her bicycle near Woodside on Wednesday afternoon has been identified by the San Mateo County coroner's office as 50-year-old Joy Covey, the former chief financial officer for the popular e-commerce company Amazon.
Covey, a Woodside resident, was the CFO at Amazon during its initial public offering. She was most recently serving on the board of trustees at the San Francisco-based National Resource Defense Council, council officials said.
"She encapsulated the heart and soul of NRDC and will be so deeply missed by all the NRDC family," council president Frances Beinecke said in a statement.
"Her adventurous and indomitable spirit was infectious and she constantly challenged us to reach greater heights," Beinecke said.
Covey was riding downhill on Skyline Boulevard when she crashed into a Mazda minivan at about 1:30 p.m. Wednesday, according to the California Highway Patrol.
The minivan, driven by a 22-year-old Fremont man, was heading uphill and made a left turn onto Elk Tree Road directly in front of Covey, CHP officials said.
Covey crashed into the right side of the van and was pronounced dead at the scene.
The collision shut down southbound state Highway 35 at state Highway 84 for about two hours.
More Bay Area stories: